What to Do in Kaohsiung || Your Ultimate 2023 Guide
Your Kaohsiung Bucket List || What to See, Eat and Explore in this Southern City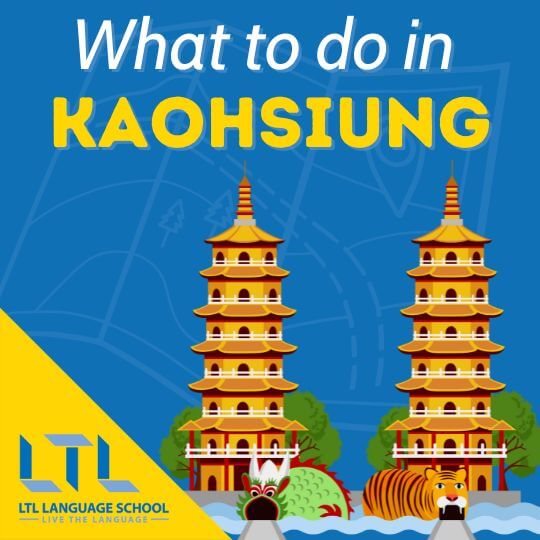 Whether you've got 24 hours or 24 days in Kaohsiung, there's plenty to see and do!
This vibrant city, situated on Taiwan's southwestern coast, is known for its rich culture, bustling night markets and breathtaking waterfront views.
Whether you'd rather spend the day at the beach with a cocktail in hand or exploring the giant tiger and dragon pagodas overlooking a lotus lake, we're here to tell you everything you need to know about the city of Kaohsiung.
So, let's dive right in!
What to Do in Kaohsiung || Dragon and Tiger Pagodas

What to Do in Kaohsiung || Cijin Island

What to Do in Kaohsiung || Liuhe and Riufeng Night Markets

What to Do in Kaohsiung || Pier-2 Art Center

What to Do in Kaohsiung || Fo Guang Shan Buddha Museum

What to Do in Kaohsiung || Dome of Light

What to Do in Kaohsiung || Love River

What to Do in Kaohsiung || Shoushan National Nature Park

What to Do in Kaohsiung || Kaohsiung Museum of Fine Arts

What to Do in Kaohsiung || Must-Try Foods

What to Do in Kaohsiung || FAQs
What to Do in Kaohsiung || Dragon and Tiger Pagodas
One of Kaohsiung's most renowned attractions is the serene Lotus Pond, a man-made lake surrounded by picturesque pavilions and temples.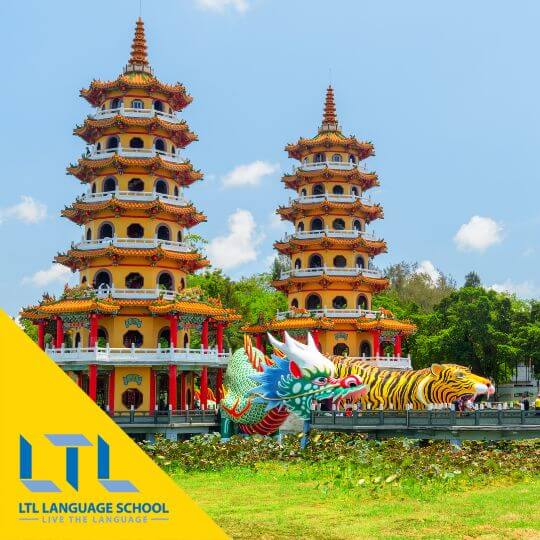 Within this scenic setting, two striking structures stand out at the southern edge of the lake – the Dragon Pagoda and the Tiger Pagoda.
You'll reach the Dragon and Tiger Pagodas by crossing a zigzag bridge.
Once you reach the top, you'll be rewarded with breathtaking panoramic views of the Lotus Pond and the surrounding landscape.
And remember to enter and leave in the correct order, else you'll be cursed with terrible bad luck…
To dodge a cursed fate, make sure to enter in through the dragon's mouth and out through the tiger's- just watch out for those fangs!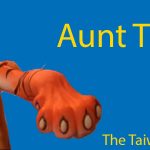 Aunt Tiger || Taiwan Legend and Nursery Rhyme
The story of Aunt Tiger is one of the shared memories of many Taiwanese. They also recognise it as one of the most terrible nightmares of their childhood.
What to Do in Kaohsiung || Cijin Island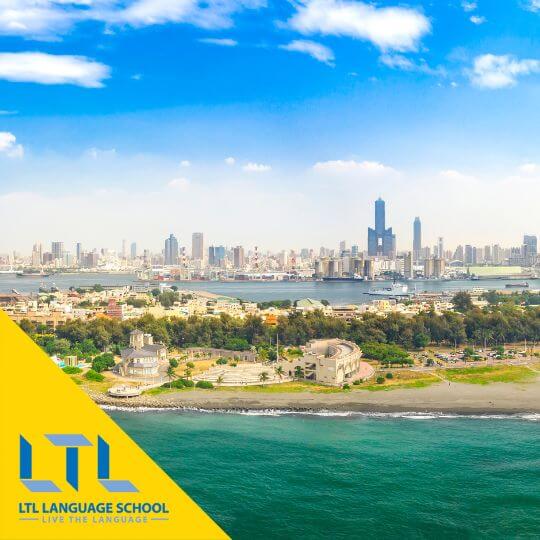 Kaohsiung boasts an island escape just a short ferry ride away – Cijin Island.
This small island is a paradise for seafood lovers, so much so that its old street is also known as Seafood Street!
👉 Don't miss the chance to try the famous Cijin grilled squid, which is rumoured to be the best in Taiwan.
Aside from its culinary delights, Cijin Island boasts stunning sunset views over the Taiwan Strait, especially from the Sunset Bar located right on the beach.
You could even walk up to Cihou Lighthouse for an unforgettable sunset experience.
After sunset, Cijin Island is known for having some of the best beach parties in all of Taiwan!
This idyllic portion of Kaohsiung is a perfect destination for relaxation and offers escape from the bustling city.
Catching the Cijin Ferry is one of the most popular ways of reaching the island, the location of which we've included below:
What to Do in Kaohsiung || Liuhe and Ruifeng Night Markets
Liuhe Night Market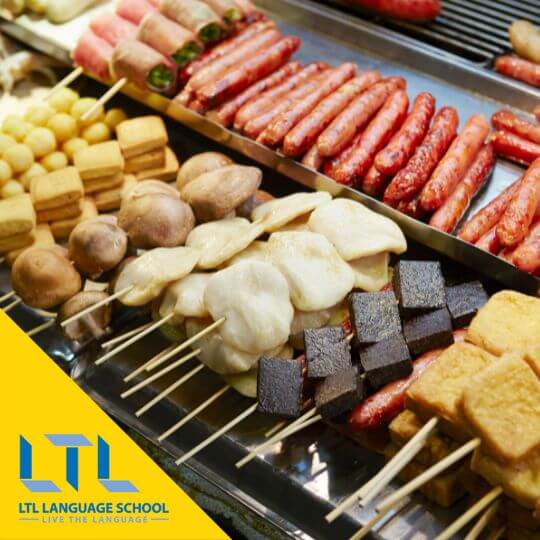 No visit to Kaohsiung is complete without indulging in the vibrant street food scene.
Liuhe Night Market is the perfect place to do so!
This bustling market is a haven for foodies, offering a vast array of mouthwatering delicacies that are unique to Taiwan and famous worldwide.
From oyster omelette to stinky tofu to bubble tea, there's something for every palate.
Be sure to try the local favorite, the "big sausage wrapped in small sausage," (大腸包小腸 dàcháng bāo xiǎocháng) which, despite the name, is actually a sausage wrapped in a sticky rice bun.
Taiwan Snacks || The Best Ones (Vegan + Veggie Included)
Taiwan is certainly well-known for its abundance of yummy foods. But what are the best Taiwan snacks? We reveal all (for vegans and veggies too).
Ruifeng Night Market
Ruifeng Night Market is not your typical night market – you could easily spend a few hours here after eating to play games like balloon shooting and buying anything from dolls to dog clothes.
Another great thing about Ruifeng is that it's situated in its own dedicated area free from traffic – so no dodging motorbikes whilst you line up for an oyster omelette!
Ruifeng is pretty vast and even offers a few international options, including Kebabs, Thai tea and German pork. You could come here every night of the week and have a totally different three course meal each time.
TOP TIP || Just remember to plan your trip carefully – Ruifeng is closed on Mondays and Wednesdays.
What to Do in Kaohsiung || Pier-2 Art Center
Pier-2 Art Center is a creative hub where art, culture, and innovation collide.
This former warehouse complex has been transformed into a vibrant open air space featuring art galleries, installations, and cultural events.
Given Kaohsiung's consistently warm, sunny weather, Pier 2 is a perfect spot for an afternoon stroll where you can enjoy the work of both local and international artists.
Whether you're there for the sunshine, the culture or a great Instagram shot, Pier 2 is a must-do on your Kaohsiung itinerary.
What to Do in Kaohsiung || Fo Guang Shan Buddha Museum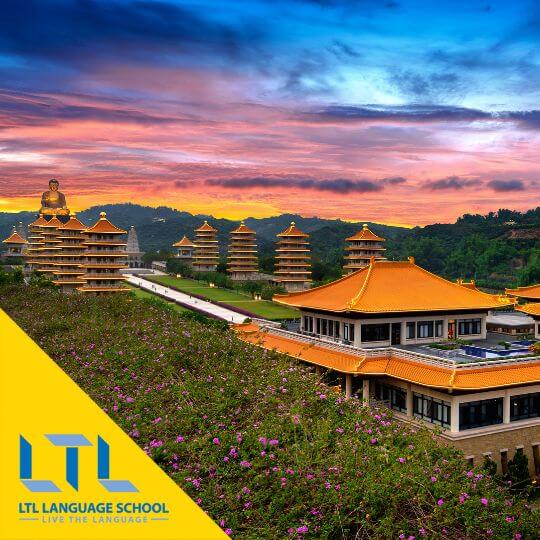 Nestled in the scenic Dashu District, the Fo Guang Shan Buddha Museum is a serene sanctuary and a significant religious site.
As the largest Buddhist monastery in Taiwan, the complex covers an extensive area and features a majestic 108-meter tall statue of the Buddha, visible from miles away.
Stepping into the grounds and gardens of the Fo Guang Shan Buddha Museum, you'll feel a million miles away from the city center of Kaohsiung.
FUN FACT || Despite its ancient feel, construction on this site only began in 2001 and it opened to the public in 2011.
Visitors are welcome to join meditation sessions, learn about Buddhist philosophy, and even enjoy a vegetarian meal at the on-site restaurant.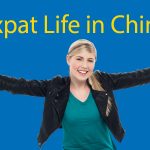 Building Your Expat Life in China and Coping With People Moving Home || Part 1
Find out first how to make your expat life in China easier from the start, and how to deal with your friends moving home with LTL Language School.
What to Do in Kaohsiung || Dome of Light
Formosa Boulevard Station is not just a transportation hub; it's also home to one of the most famous art installations in Taiwan – the Dome of Light.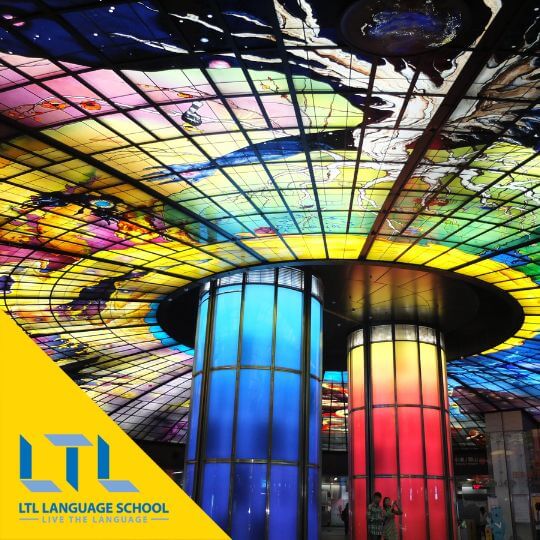 Created by renowned artist Narcissus Quagliata, this kaleidoscopic masterpiece spans the entire ceiling of the station's entrance hall.
It is comprised of 4,500 glass panels and covers an area of 660 squared meters.
The Dome of Light is a visual representation of love, hope, and enlightenment.
On a sunny day when sunlight streams through the panels, walking through the station really is an otherworldly experience – pictures can't do it justice!
Whether you're a fan of art, architecture or simply just looking at awesome things, this masterpiece is a must-see in Kaohsiung.
What to Do in Kaohsiung || Love River
Romantic boat ride, anyone?
Kaohsiung's Love River isn't just a waterway; it's a symbol of the city's romantic allure.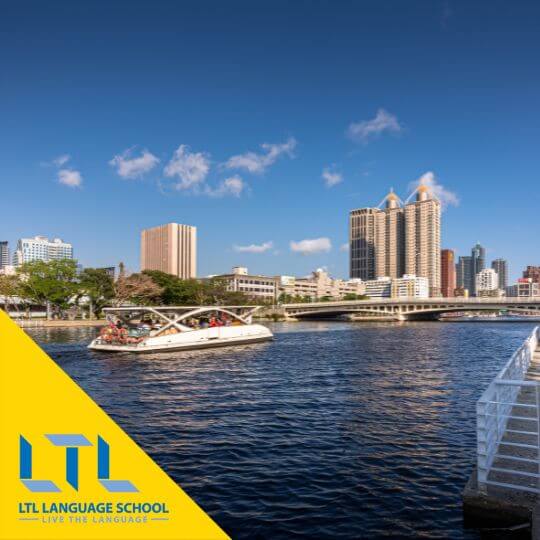 A stroll along the riverbank is offers a whole range of picturesque views and riverside cafes, and is a great way to spend a few hours.
That said, there's a clear winner when it comes to making the most of Love River: taking a ride on the Love Boat.
👉 The cruise is best experienced in the evening when the city lights illuminate the riverside.
Even if you're travelling solo, taking a boat ride down the Love River will definitely make you fall for Kaohsiung!
You can find the Love River cruise here:
What to Do in Kaohsiung || Shoushan National Nature Park
Nature enthusiasts and adventure seekers will find a haven in Shoushan National Nature Park, without even leaving the city limits.
This protected area is home to some seriously breathtaking hiking trails and of course – Monkey Mountain!
As you hike through the lush forest, you'll be treated with the sights of indigenous animal and plant life. Though if you're lucky enough to spot some monkeys, make sure to give them their space – and not your food!
What to Do in Kaohsiung || Kaohsiung Museum of Fine Arts
Kaohsiung Museum of Fine Arts is truly a museum you don't want to miss.
This cultural institution showcases an impressive collection of contemporary and traditional artworks, highlighting the talent of Taiwanese artists and their contributions to the global art scene.
The museum, situated in the northwestern corner of Kaohsiung, hosts a diverse range of exhibitions, featuring paintings, sculptures, installations, and multimedia art.
It's located in Neiweipi Cultural Park, which is also home to the Children's Art Museum, a sculpture park and plenty of picnic spots beside the lake.
For information on their latest exhibitions, you can check out their website.
What to Do in Kaohsiung || Must-Try Foods
We saved the best 'til last.
Taiwanese food really is some of the best. Here's our top five unmissable foods you have to try when you're down in Kaohsiung.
We've included the Chinese names and the pinyin so you can spot these on a menu or ask around at the night markets!
Beef Noodle Soup (牛肉麵 niúròu miàn) A hearty and flavorful dish, beef noodle soup features tender beef slices, chewy noodles, and a savory broth infused with aromatic spices.
Milkfish Congee (虱目魚粥 shī mù yú zhōu) A local specialty, milkfish congee is a comforting rice porridge cooked with tender milkfish and flavorful broth, perfect for breakfast or any time of day.
Duck Rice (鴨飯 yā fàn)This dish, found in bustling markets and streets, features succulent roast duck on a bed of rice, served with fragrant duck oil and delicate ginger. Savor the tender duck meat and pair it with the subtle ginger slices for an unforgettable taste. The combination of flavors is simple yet delightful
Fish Ball Soup (魚丸湯 yú wán tāng) This comforting soup features bouncy fish balls served in a clear broth, often accompanied by vegetables and sometimes noodles.
Stinky Tofu (臭豆腐 chòu dòufu) Despite its pungent aroma, stinky tofu is a beloved street food. The tofu is fermented and deep-fried, resulting in a unique combination of crispy exterior and soft interior.
BONUS || Have you heard of China's Eight Great Cuisines? Make sure to add these to your list!
---
What to Do in Kaohsiung || FAQs
Is Kaohsiung worth visiting?

Kaohsiung is absolutely worth visiting!

Whether you're a history enthusiast, an art lover, a foodie, or simply looking to immerse yourself in the local culture, Kaohsiung offers something for everyone.
What are the top tourist attractions in Kaohsiung?

Kaohsiung offers a wide range of attractions, including the iconic Dragon and Tiger Pagodas, Cijin Island's lively party scene, and the Pier-2 Art Center's vibrant art scene.
What is the best time to visit Kaohsiung?

The best time to visit Kaohsiung is during the autumn and winter months, from October to February, when the weather is pleasant and ideal for exploring the city's landmarks and outdoor activities.
What should I eat in Kaohsiung?

Kaohsiung has a lot of must-eat treats, including fish ball soup, duck rice and milkfish congee.
What are the best markets in Kaohsiung?

Kaohsiung boasts several vibrant night markets.

Liuhe Night Market and Ruifeng Night Market are among the best.
How do I get from Taipei to Kaohsiung?

You can travel from Taipei to Kaohsiung by taking a high-speed train in as little as 1.5 hours.

Or for a more budget-friendly option, you could take a long-distance bus.
Want more from LTL?
If you wish to hear more from LTL Mandarin School why not join our mailing list.
We give plenty of handy information on learning Chinese, useful apps to learn the language and everything going on at our LTL schools!
Sign up below and become part of our ever growing community!
BONUS | Want to study the local Taiwanese dialect known as Hokkien? We provide Hokkien classes in person and online.