Summer Camp in Taipei || A Complete Rundown Of Our Best Camp Yet
Taipei Summer Camp 2023 || What We Did (+ Pics and Quotes)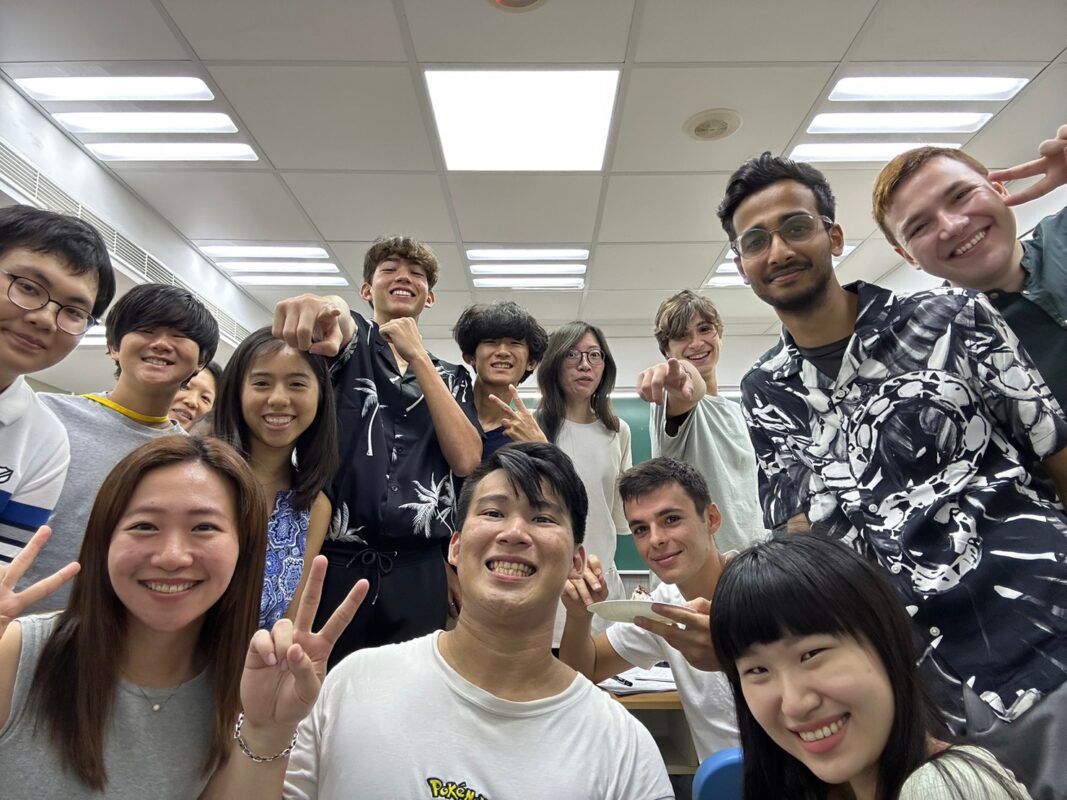 Our 2023 Summer Camp in Taipei was our biggest and best yet.
It was our first Summer Camp since that pesky pandemic, and boy did we have a blast.
8 weeks came and went so fast, with kids of all ages and backgrounds coming together as one to learn Mandarin with us and explore some of the finest sights, sounds and smells that Taipei has to offer.
In this post, we give you a complete rundown on what we did, what our students thought and include plenty of pictures and videos along the way.
We hope to see you join us in 2024 for more of the same 😍
LTL Summer Camp in Taipei || A Brief Introduction

LTL Summer Camp in Taipei || Mandarin Lessons

LTL Summer Camp in Taipei || Lunch

LTL Summer Camp in Taipei || Afternoon Activities

LTL Summer Camp in Taipei || Weekend Day Trips

LTL Summer Camp in Taipei || What Our Students Thought

LTL Summer Camp in Taipei || FAQs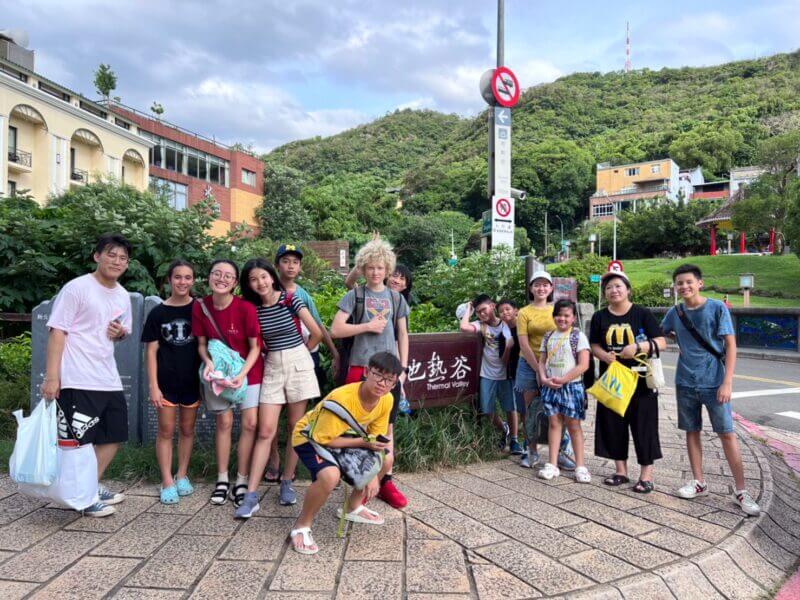 LTL Summer Camp || A Brief Introduction
Our Summer Camp in Taipei welcomes children under the age of 17 from across the world to partake in a mixture of Chinese lessons, cultural activities and explorations and adventures throughout the city of Taipei.
A typical LTL Summer Camp can look something like this:
Day
8am
9am-1pm
2pm-6pm
Monday
Breakfast at camp/homestay
Chinese class
Longshan Temple
Tuesday
Breakfast at camp/homestay
Chinese class
Chinese Chess + Badminton
Wednesday
Breakfast at camp/homestay
Chinese class
Qingguang Market & Shopping
Thursday
Breakfast at camp/homestay
Chinese class
Chinese Painting
Friday
Breakfast at camp/homestay
Chinese class
National Palace
Museum
Saturday
Breakfast at camp/homestay
Repulse Bay Beach Day Trip
Repulse Bay Beach Day Trip
Sunday
Breakfast at camp/homestay
Activities in Camp or with Homestay
Activities in Camp or with Homestay
Lunch between 1pm and 2pm
Due to the weather we sometimes have to switch activities around, but generally speaking we set the schedule out before the kids arrive, so you have an idea of exactly what your kids are up to.
Everything is kept up to date in a Line group (Taiwan's answer to Whatsapp).
The Taipei Summer Camp lasts 8 weeks in total, running throughout June and July and students can partake from 1 week to the full 8.
BONUS || Students can also stay with a local Taiwanese family to enhance their Mandarin even further. We talk more about that on our Summer Camp page here.
When students arrive each Monday we go for a welcome breakfast together, so we can all break the ice and get to know other before class starts.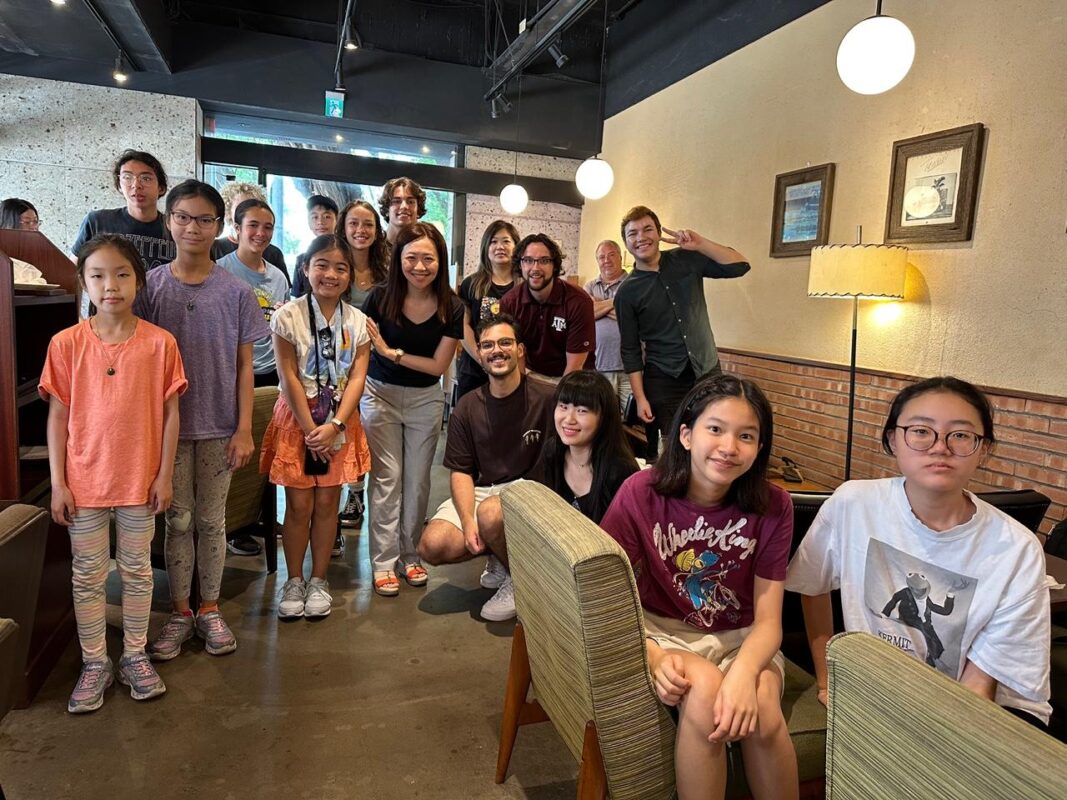 After this… it's onto school we go as the Chinese lessons kick off.
LTL Summer Camp || Mandarin Lessons
Every weekday our students enjoy 4 hours of Mandarin lessons with our amazing team of teachers.
These classes are kept small so your kids can learn as much as possible during this time.
Classes aren't just sat listening to teachers either – we've got plenty of role plays, games, and a whole lot more planned to make sure everyone is having a good time whilst learning.
To keep the kids engaged we plan for weeks in advance.
We find kids love learning Chinese with us and we often see students come back for multiple summer camps which is great for us to see 😍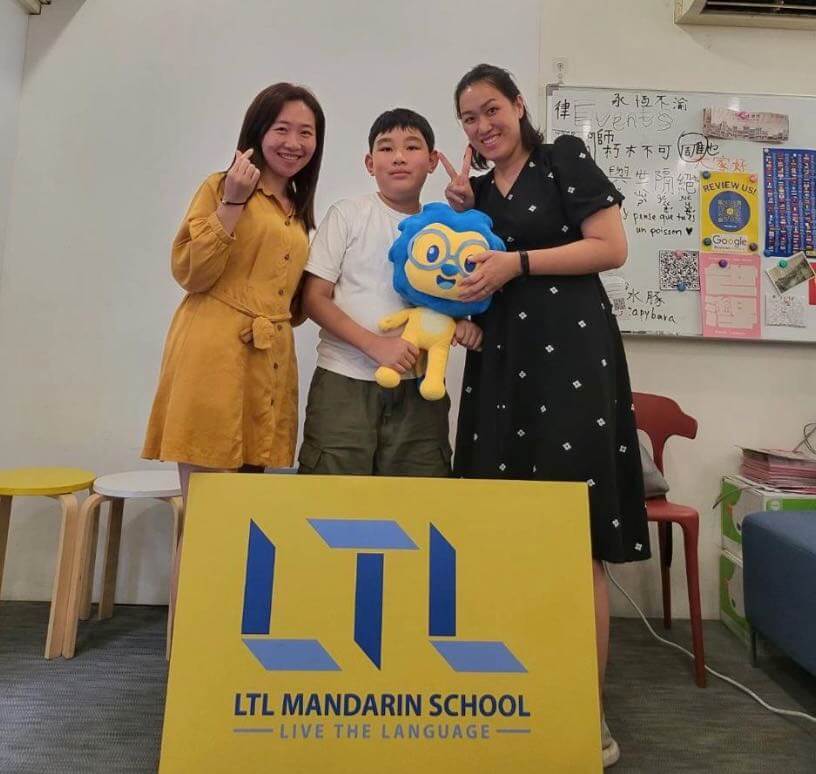 LTL Summer Camp || Lunch
After classes are all wrapped up everyone (including the teachers) are super hungry!
It's time to go for lunch.
Each day we handpick a local restaurant which we all go to together, with some of the LTL staff attending also.
Everyday we go somewhere different, providing your kids with all the tastes of Taipei they need.
We mix it up too so the kids won't be eating Taiwanese food 3 times a day, every day! Japanese, Korean, Thai, or even the odd Pizza or burger 😋
BONUS || All lunch in the LTL Summer Camp is included in the price of the program.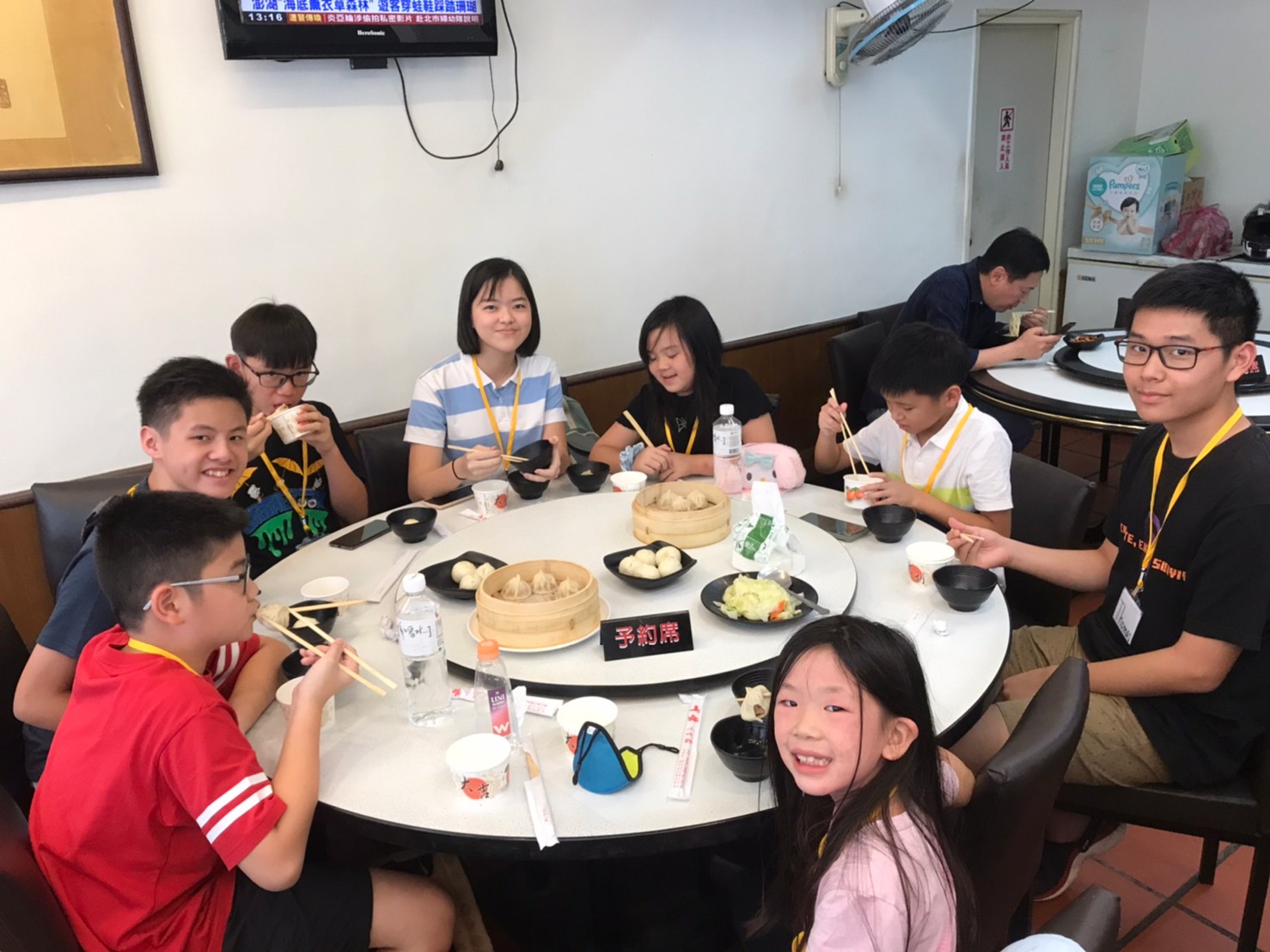 LTL Summer Camp || Afternoon Activities
Now it's time for the real fun to begin.
We took to the streets of Taipei after lunch to give your kids a full flavour of the life and culture in Taipei.
We got up to a whole host of things including:
Riding the cable cars up on the Maokong Gondola
Visiting the famous Chiang Kai Shek Memorial
Ice skating at Taipei Arena
Discovering Longshan Temple
A trip to Taipei's biggest skyscraper – Taipei 101
… and a whole lot more!
Some days we go on more educational visits as we hit up a number of the cities excellent museums, such as the National Science Museum, other days we delve into history as we take a guided tour of the Chiang Kai Shek memorial.
And other days, we just have a bit of fun as we go bowling or skating.
The key is keeping it fresh and mixing it up so the kids are never bored! And guess what, they never were!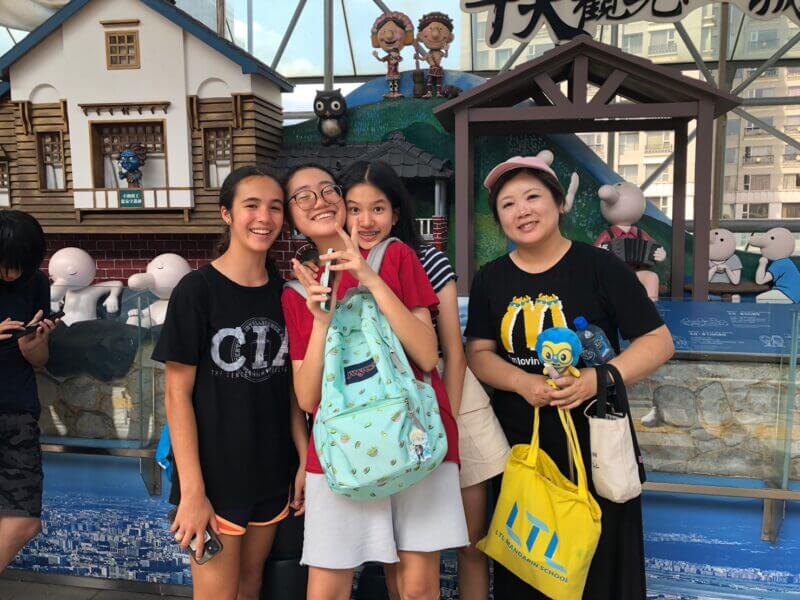 LTL Summer Camp || Weekend Day Trips
As there are no classes on Saturday, that gives us a full day to take the kids out and about.
Our day trips typically last from 9am to 6pm and are super popular with our students.
This year we went to:
Shi fen Waterfall to make our own lanterns which we set off into the sky
Dadaocheng and E7 play to chill, do some bowling and enjoy some pool
Head across the Red Line to Tamsui to get a glimpse of the coast
Take a tour of the National Taiwan Museum and visit the office of the President
… and a whole lot more of course!
On Sunday, we wind day and let the kids have some free time at their residence camp or homestay family.
LTL Summer Camp || What Our Students Thought
So what did our students really think of their time with LTL? Here is a mixture of quotes and videos from our students and their families.
Liz is one of the parents who came to LTL to study alongside her daughter. Liz is a beginner in Mandarin and took her classes whilst her daughter studied in one of the more advanced classes.
Here's what she had to say about her two weeks at LTL Taipei.
I just want to say thank you for an exemplary month filled with joy and happiness.

Student Noah
Thank you to all the LTL teachers and guides. Caitlin had a fantastic experience.

Christine (mother of student Caitlin)
Thank you LTL for everything, it was truly an extraordinary experience.

Student Markus
Thanks for all your support 老师们 and the guides at LTL also. Hannah had a memorable summer.

Taki (mother of student Hannah)
I wanted to thank everyone for this amazing month that sadly just passed by… All of you made it special, a big heartfelt thanks.

Student Marco
Thank you everybody! It was an amazing month for Gregory due to all your efforts, care, and guidance. Thank you!

Andrey (father of student Gregory)
Not bad, right?!
---
If you wish to enquire about our Summer Camp, drop us a message here. We can't wait to welcome you to our next Summer Camp in Taipei
LTL Summer Camp || FAQs
When does the LTL Summer Camp in Taipei take place?

We host our Summer Camp in the heart of Taipei every year for 8 weeks during June and July.
Are there LTL Summer Camps in other cities?
How much does the LTL Summer Camp cost?
Can parents also attend Chinese class?

Parents are most welcome to study Mandarin with us as well.

You won't be in the same class as your child, but you will still learn just as much!
Can siblings join the LTL Summer Camp together?

Yes, of course!

We actually offer a 5% discount for any summer camp participants who sign up together.
Want more from LTL?
If you wish to hear more from LTL Mandarin School why not join our mailing list.
We give plenty of handy information on learning Chinese, useful apps to learn the language and everything going on at our LTL schools!
Sign up below and become part of our ever growing community!
BONUS | Want to study the local Taiwanese dialect known as Hokkien? We provide Hokkien classes in person and online.