Things to Do in Taipei (2023 Update) | The Complete Guide
The Insiders Guide to Taipei || What to Really Do (From Those Who Live There)
Taipei – the capital of Taiwan and home of LTL School Taipei.
In short – this is a must-visit city if you find yourself on this side of the world. Taipei is incredibly relaxed, very friendly, and boasts some rather incredible food across the city.
Alongside all of this, there are a number of must-see spots in Taipei, which is what we are going to introduce to you right now!
(Don't worry, we've also included directions at the end of each).
Things to do in Taipei #1 || Raohe/Shilin Night Markets

Things to do in Taipei #2 || Visit Ximending

Things to do in Taipei #3 || Relax in the 228 Peace Memorial Park

Things to do in Taipei #4 || Visit Taipei 101

Things to do in Taipei #5 || Climb Elephant (and the surrounding) Mountains

Things to do in Taipei #6 || Get stuck into 牛肉面/牛肉麵

Things to do in Taipei #7 || Spend an afternoon at Chiang Kai-Shek

Things to do in Taipei #8 || Grab a beer at On Tap

Things to do in Taipei #9 || Take a (half) day trip to 九份

Things to do in Taipei #10 || Track down and enjoy a 胡椒饼

Things to do in Taipei #11 || Spend the afternoon/evening in Tamsui

Things to do in Taipei #12 || Take the Maokong Gondola

Things to do in Taipei #13 || Feast on 小籠包 at Din Tai Fung

Things to do in Taipei #14 || Visit the Addiction Aquatic Development

Things to do in Taipei #15 || Drink Bubble Tea

Things to do in Taipei || FAQs
PSST – for an extension to these 15 points, we have 10 other things to do in Taipei which are a little more left-field, check them out after if you like by clicking the link below.
---
What to do in Taipei #1 – Night Markets 夜市
It's difficult to just pin down one night market here because they are all worthy of a mention so our first recommendation is to visit ANY night market in Taiwan.
Some you will simply stumble across, and some you will make a specific journey for, either is fine.
That said, there are two we particularly liked for the sheer buzz, size and quality of food – they are Shilin 士林夜市 and Raohe 饒河夜市.
VOCAB ALERT – 夜市 (yè shì) is Night Market, very useful one for Taiwan!
Taipei night markets are abuzz with colour, noise and a huge variety of smells, some good and admittedly some (very) bad.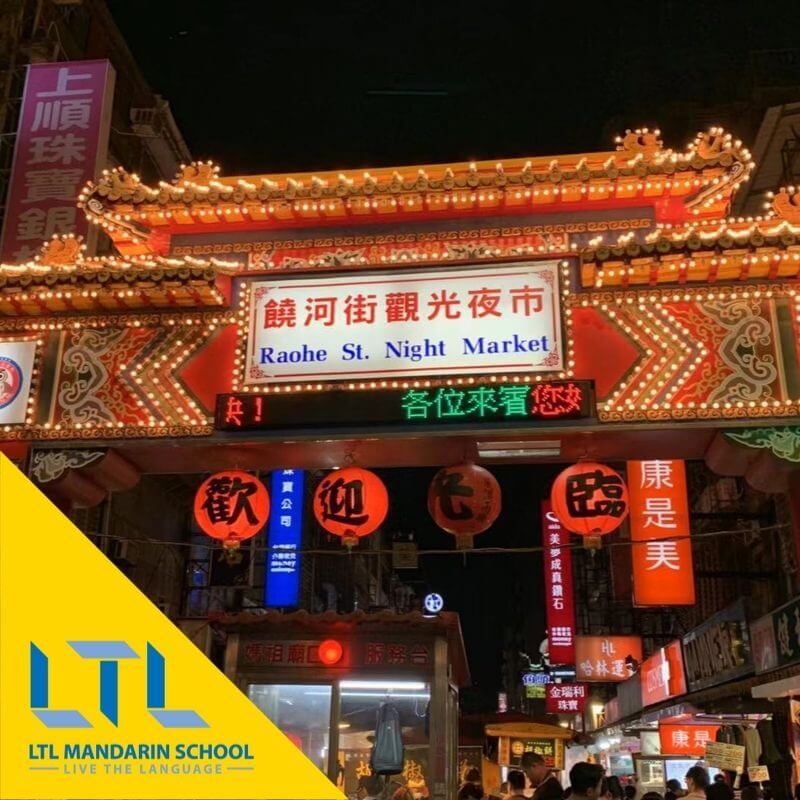 臭豆腐 – if you see these three Chinese characters – STAND BACK!! This is Stinky Tofu. The pungent and putrid smell hits you within a relative radius, so keep an eye, and a nose out for it!
Most foreigners hate it, yet oddly a lot of Taiwanese like it. The taste? We'll leave that up to you, if you are brave enough to try it!
Apparently the smellier, the taster. 越臭越好吃 (yue chou yue hao) is what the local Taiwanese say about Chou Doufu. Not sure about that one, but what is certain is that the clue is in the name. Stinky.
Despite that, there are some absolutely wonderful things to get stuck into, one we'll go through later. It's so good we gave it its own slot… but the best of the rest? Try some of these: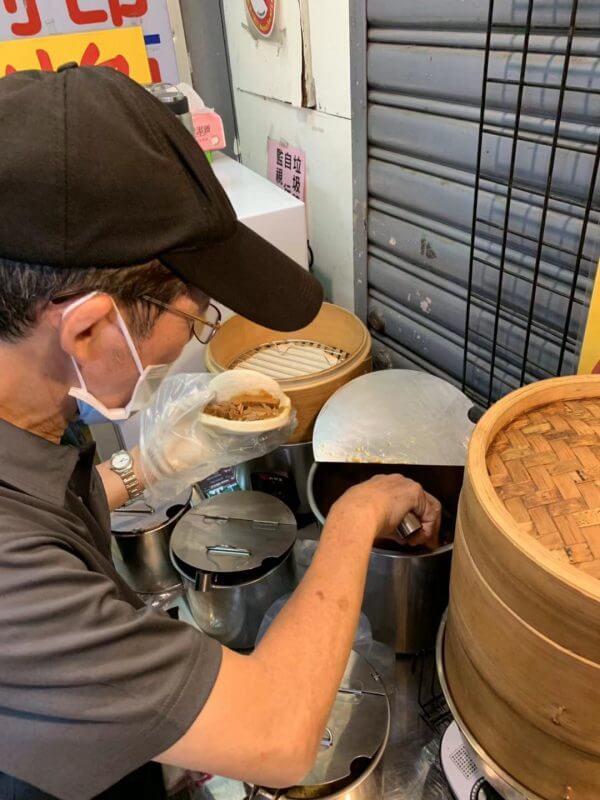 冷面 – Cold noodles
生煎包 – Pan-friend Dumplings
煎饺 (煎餃) – Fried Dumplings
蛋饼 (蛋餅) – Egg Pancake
葱油饼 (蔥油餅) – Scallion Pancake
In truth, there are so many other things and these boil down to personal preference. Oysters, Octopus, Mushrooms, and so much more! The list is endless.
Interestingly, although the headline act for these night markets is generally food, there is more that meets the eye.
Shilin Night Market boasts a whole area where arcade-like games can be played. A common sight with locals is the boyfriend spending his hard-earned dollars using darts to pop balloons in order to win his loved one a small stuffed toy. It's all worth it when you see the look on her face when he wins (eventually)!
Likewise, there are plenty of clothes stalls also, some with questionable attire, but it's all part of the fun of a Taipei Night Market!
You won't go too wrong visiting any night market in Taipei, and there are so many, they are hard to miss. Try your chance at a few, but if you can, visit the aforementioned two, we are sure you won't regret it.
The Ultimate Taiwanese Street Food To Try (+ Bonus Video Content)
Taiwanese street food is world famous. Its day and night street food markets are a popular attraction both for tourists and locals.
HOW TO GET THERE – As we've recommended a number of them here, you'll be able to find them all around Taipei.
For Shilin: head to Shilin MRT stop (士林)
For Raohe: head to Songshan MRT (松山).
From those stations follow the respective signs to be there with relative ease.
What to do in Taipei #2 – Visit Ximending 西門町
A place for the hipsters.
Ximending 西門町 is a wonderful place to stroll around, do a bit of shopping, relax with a drink and watch the world go by.
Boasting quirky restaurants, bars and clubs, this is a popular meeting point for the youth of Taipei and becomes much busier, as you'd expect, on weekends.
Plan your trip around that.
Ximending is home to the Red House Theatre, which in turn is also home to Taipei's main LGBT district. It has also picked up the nickname with tourists as the Harajuku of Taipei. You can see why.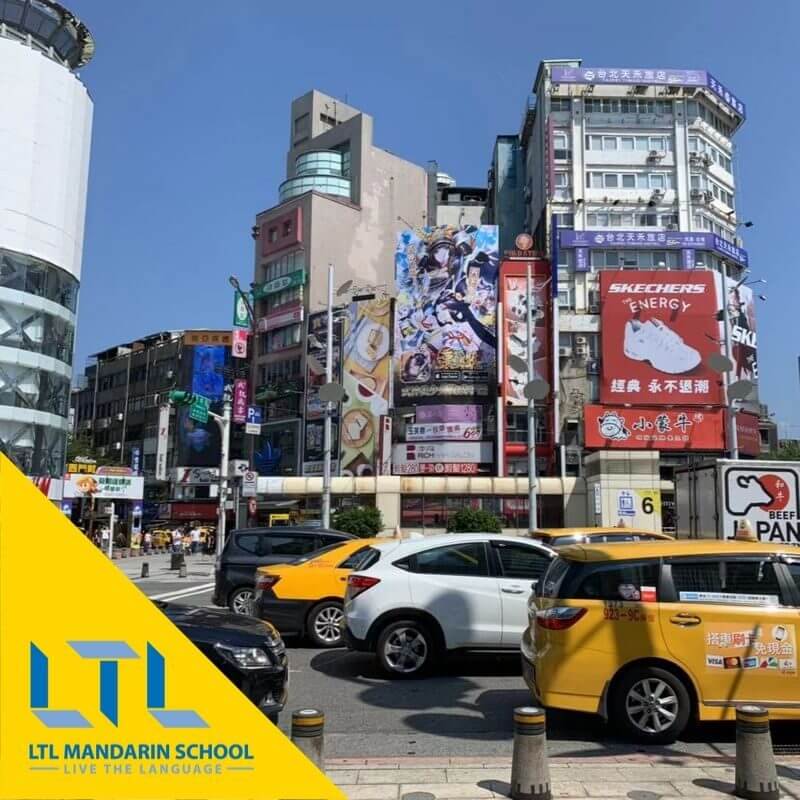 By day, shop 'til you drop, by night, breathe in neon lighting like never before, for Ximending is the district of Taipei that never sleeps.
The Red House Theatre is a great spot to top up on your Taiwanese souvenirs and hosts some of the most popular "Instagram-able" spots in all of Taipei!
Chthonic || Taiwan Political Black Metal
Whether you are a fan of metal music or not, there's a special Taiwanese band which you must know, that is Chthonic (閃靈樂團 shǎn líng yuè tuán).
Spend a few hours here but it's worth seeing Ximending at day, and at night to see how it changes, not just in terms of lighting, but in terms of personnel also!
HOW TO GET THERE –
Directions: Head to Ximen 西门 MRT stop which is just one stop west of the Taipei Main Station.
Things to do in Taipei #3 – Relax at 二二八和平公園
If you want to escape the chaos of Ximending, a short walk to the 228 Peace Memorial Park is just what the doctor ordered.
This rather, small, but yet beautiful park, right in the heart of the city is just the spot to sit and relax (or get those study books out and do some reading).
It doesn't take too long to walk the entire circumference of the park, in comparison with others, but if you need a break from city life, escape here.
We'll let the pictures do the rest of the talking.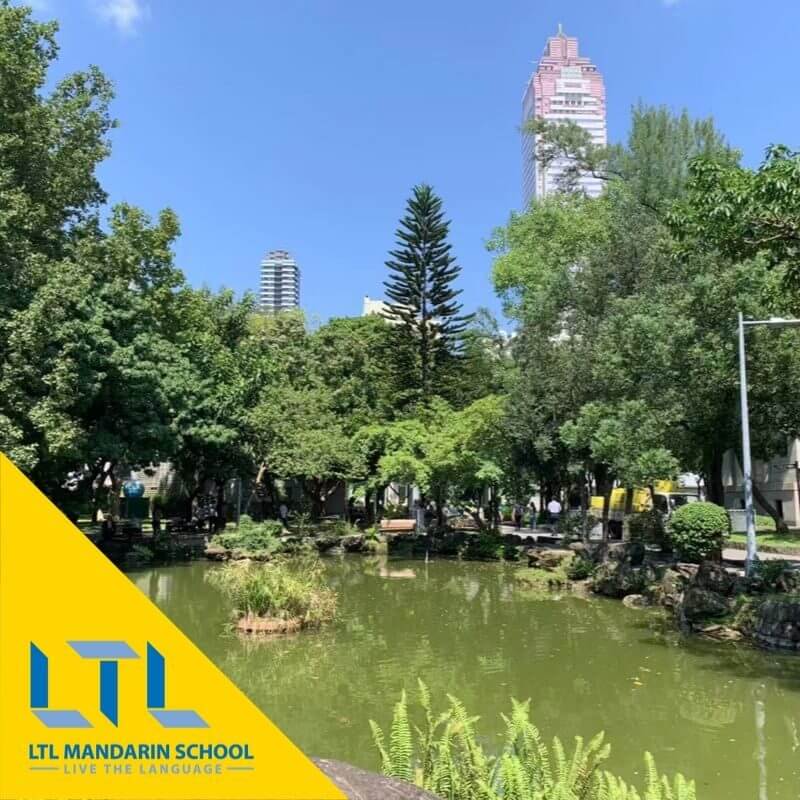 HOW TO GET THERE –
Directions: Also conveniently located on the Taipei MRT. This time head to NTU Hospital Station 台北医院站 (台北醫院站) and you'll see the park from there.
Things to do in Taipei #4 – Visit 臺北 101
Once the tallest building in the world, bet you didn't know that!
Despite not holding its spot as the tallest building in the world anymore, it's still huge! It did manage to hold onto one record though (at the time of writing at least).
The Taipei 101 is home to the world's tallest Starbucks, which is located on the 35th floor of the 101.
INSIDER TIP – You actually have to make a reservation to visit this Starbucks, you cannot just turn up. You also have to spend a minimum of 250NTD (roughly 7EUR/8USD) PER HEAD.

Not sure it's worth the hassle ourselves, but if you want a coffee, with a view. Go for it!
Want to level up and order that coffee in Chinese? We've got you covered – visit our Coffee in Chinese blog.
As with all the famous worldwide skyscrapers, there is an observation deck which you can visit way up on the 89th floor which offers 360-degree views of the whole of Taipei – pretty smart.
Generally it opens from 9am-10pm but check this before going in case this has changed since the time of writing.
It's very easy to get to, as with most things in Taipei. The Taipei 101 has it's own MRT/Metro/Underground stop, meaning you can step right into it.
INSIDER TIP – We actually think it's nice to take a walk to from a distance. Perhaps get off two stops west at Da'an Station 大安站 and walk directly across the main road, east. You'll see it immediately and it's quite nice to stroll towards, especially on a nice clear and sunny day,
HOW TO GET THERE – Unsurprisingly the 101 has its own MRT stop, the Taipei 101 台北101/世贸. Follow the signs when you get there and it's very simple onwards.
Things to do in Taipei #5 – Climb Elephant Mountain 象山
Here's the thing:
Everyone knows about Elephant Mountain, it can get quite crowded, especially in the photogenic areas of the climb, and rightly so, the views are killer.
So what's to be done?
Don't just settle for the rather minor hike of Elephant Mountain, head to its brothers Tiger Mountain, Lion Mountain, and Leopard Mountain.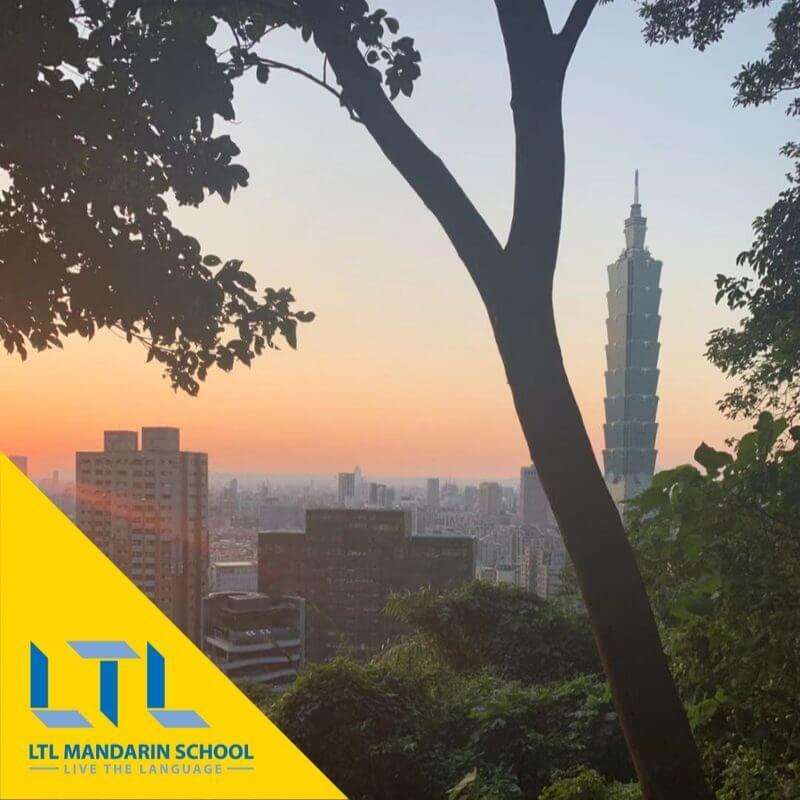 The hike up Elephant Mountain only takes about 30 minutes and shouldn't be taken too seriously. No need for hiking gear etc! It's a pretty steady climb to the top, before enjoying some wonderful views of Taipei City, with the daddy, Taipei 101 sticking out like a sore thumb!
For something a bit deeper, we recommend not just spending two hours around Elephant Mountain, but spending perhaps four hours exploring the brother mountains.
But why?
Less crowds, that's why!

Much less in fact
It's true that pretty much any hour you set on your way up Elephant Mountain, you'll have plenty of people with you, day or night. The other trails, however, this is not so.
Crowds are much more sparse and you can find some great spots to relax, take pictures, and breathe in the wonderful views of the city.
Invest a bit more time and effort, and you'll be rewarded.
HOW TO GET THERE – Just one stop east of the Taipei 101. In keeping with the theme, Taipei has a MRT for that! Head to the end of the red line for Xiangshan stop (象山), and follow the signs from there.
Oh, speaking of animals…
Things to do in Taipei #6 – Get stuck into 牛肉面/牛肉麵
What is 牛肉面/牛肉麵?
Well firstly, we've been kind enough to provide you with the Simplified (牛肉面) and Traditional (牛肉麵) version of this amazing dish, because this can be enjoyed in Taiwan and the Mainland.

牛肉面/牛肉麵 = niúròu miàn
However, this is one of the more famed dishes in Taiwan and translates to Beef Noodles.
Although similar to the mainland, the broth in the Taiwanese version is more flavoursome and richer, giving it an edge (in my humble opinion at least)!
We've actually already written a blog about Niúròu miàn, not surprisingly it made our list of top Taiwanese dishes to enjoy, so rather than repeat ourselves we recommend you take a look at this…
Food in Taiwan || Top Taiwanese Food You Simply Cannot Miss
Food in Taiwan is full of flavour and variety. Using a base of noodles and rice, with strong flavours and lots of meat (mainly beef and pork) and fish.
HOW TO FIND IT – You'll be hard pressed to not see 牛肉麵 in Taiwan to be honest. It's absolutely everywhere. In street markets, restaurants, you'll even see restaurants named 牛肉麵, kind of giving away what their signature dish is. Now you know!
Things to do in Taipei #7 – Visit Chiang Kai-Shek
Welcome to one of the most prominent historical areas in all of Taipei.
Right in the heart of Taipei City the Chiang Kai-Shek Memorial greets you like this…
Quite the beautiful backdrop on a nice day, isn't it?!
This area is known as Liberty Square and the setting is quite a picture. Liberty Square is a public area that spans roughly 240,000 square meters in Zhongzheng District, Taipei.
Upon walking to the very middle you'll be faced with a different style of building each way you look, north, south, east and west. Each building has its own unique traits and quirks.
It's very much worth spending the time to relax and explore here.
Again, lot's of chances for some very cool pictures (see our Instagram effort above), and if you get lucky with the weather, you won't be needing any filters.
FYI – This area is also known as 自由廣場 (Freedom Square)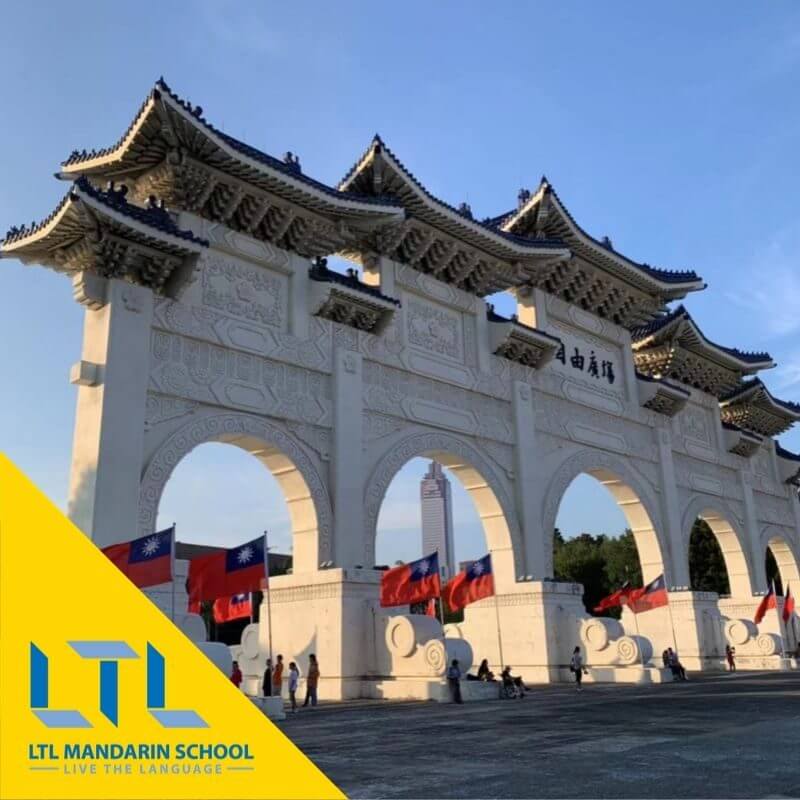 HOW TO GET THERE –
Directions: Again, it's so easy using the MRT. Head to Chiang Kai-shek Memorial Hall (中正紀念堂) Station and follow the signs to the memorial. It's almost impossible to miss!
Things to do in Taipei #8 – Grab a beer at On Tap
Not exactly the most cultural thing to do whilst you are in Taipei but who would ever say no to a crisp, refreshing beer after a long day studying Chinese and exploring Taipei?
Yea, me neither!
On Tap is a cracking spot to kick back, watch the (insert your favourite sport here, they will probably be showing it) and have chilled beers with your close ones.
Run by an Englishman, which is very clear upon entering, this is your typical British pub. Decor, music, style, drinks, food – it cries English pub (have you guessed my nationality yet!).
Tuck into a local Taiwanese beer or pick your favourites from home, the likelihood is they will have what you are after!
Whether you are English or not, I discovered it is many locals' favourite spot to grab a drink in Taipei and it's also not too far from LTL Taipei either!
HOW TO GET THERE –
Directions: On Tap is smack bang between two Metro stops so take your pick from Zhongxiao Dunhua (exit 5) 忠孝敦化 or Sun Yat-Sen Memorial Hall Station 果腹紀念館站 (exit 3)
Things to do in Taipei #9 – (Half) day trip to Jiǔfēn 九份
Time to venture out of the city for the first time, we go east, to the famous 九份 (jiǔfēn).
This popular tourist hotspot is accessible by bus/train/taxi, or a combination of them, depending on your budget and time.
As I was a bit short for time myself, I jumped into a taxi. Uber is actually widely used here in Taipei and I found the price of 800NTD was a lot cheaper than the 1,200+NTD prices I saw online before going.
So on the back of that, INSIDER TIP – Download Uber if you don't have it already.

Didi, China's equivalent is not used in Taiwan.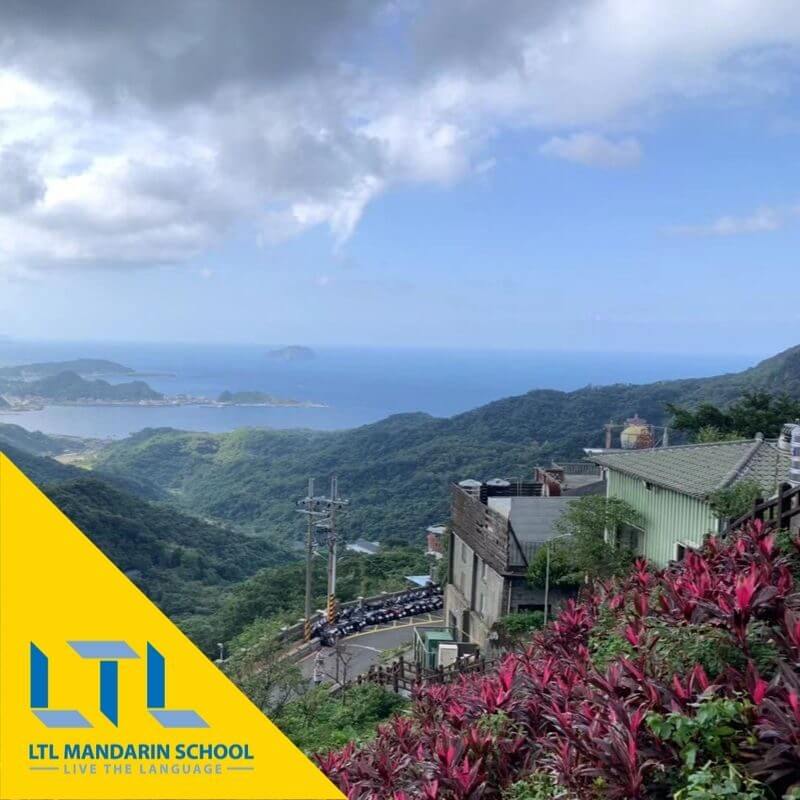 The price was the same coming back, totalling 1,600NTD (47EUR/52USD). Not that bad for the journey time and much more comfortable than hopping on Metros and Buses.
To emphasise, this was simply due to personal time constraints.
Anyway – 九份 (jiǔfēn) itself was actually built by the Japanese way back when, and now is home to a host of tight alleys, stalls, shops and scenic spots which are well worth making the journey for.
The Japanese influence is clear here, many areas remained untouched and unchanged, adding to Jiǔfēn's charm.
We also covered Jiufen in our TOP 5 WEEKEND TRIPS TO TAKE FROM TAIPEI, check it out!
Taiwan Weekend Getaways // The Top 5 Weekend Trips from Taipei
Top 5 Weekend Trips from Taipei // #1 Teapot and Banping Mountain : #2 Jiǔfēn 九份 : #3 Wūlái 乌来 : #4 Baishawan 白沙湾 : #5 Surfing at Wai'ao Beach 外澳海滩
There's lot of little nuggets to discover in Jiǔfēn, the most famed area, shown by the number of tourists, is 九份老街 Jiǔfēn Lǎojiē which translates to Jiǔfēn Old Street.
Full of street side treats, sweet, savoury and everything else in between. I particularly enjoyed the Shrimp Balls, right at the start of the Old Street, but there's a wealth of stuff to get stuck into, be brave, be bold and tuck in!
At the end of the Old Street you'll be greeted with a gorgeous view of the coastline and sea.
Again, if the gods are smiling on you, there might just be a chance to get some rather incredible shots here, good luck!
Remember though, expect plenty of other people trying to do the same thing.
The great thing about Jiǔfēn is there are plenty of surrounding things you can enjoy as well, such as Teapot/Banping Mountain (also covered in the link above) and visiting Keelung and the wonderful Miaokou Night Market 廟口夜市.

Options a plenty and well worth a day trip venture.
HOW TO GET THERE –
Directions: OK, the time to hop away from the Taipei MRT, this one's a bit more complex. For convenience and speed, take a taxi (use Uber), but this will cost about 1,600-1,800NTD round-trip.
Otherwise use the MRT to get to Zhongxiao Fuxing (忠孝復興) and leave at Exit 2. From here there is a Sogo Store, wait outside the bus stop for 1062. This is the Keelung Bus. It heads to Jinguashi, you want to head off at Jiufen. This will set you back 98NTD per ticket (minus the small costs of the MRT itself).
There is a further alternative if you head to Taipei Main Station (台北車站) via the MRT. You can then get the train to Ruifang Station, but I am told the route above is slightly more convenient by locals.
Things to do in Taipei #10 – Enjoy a 胡椒饼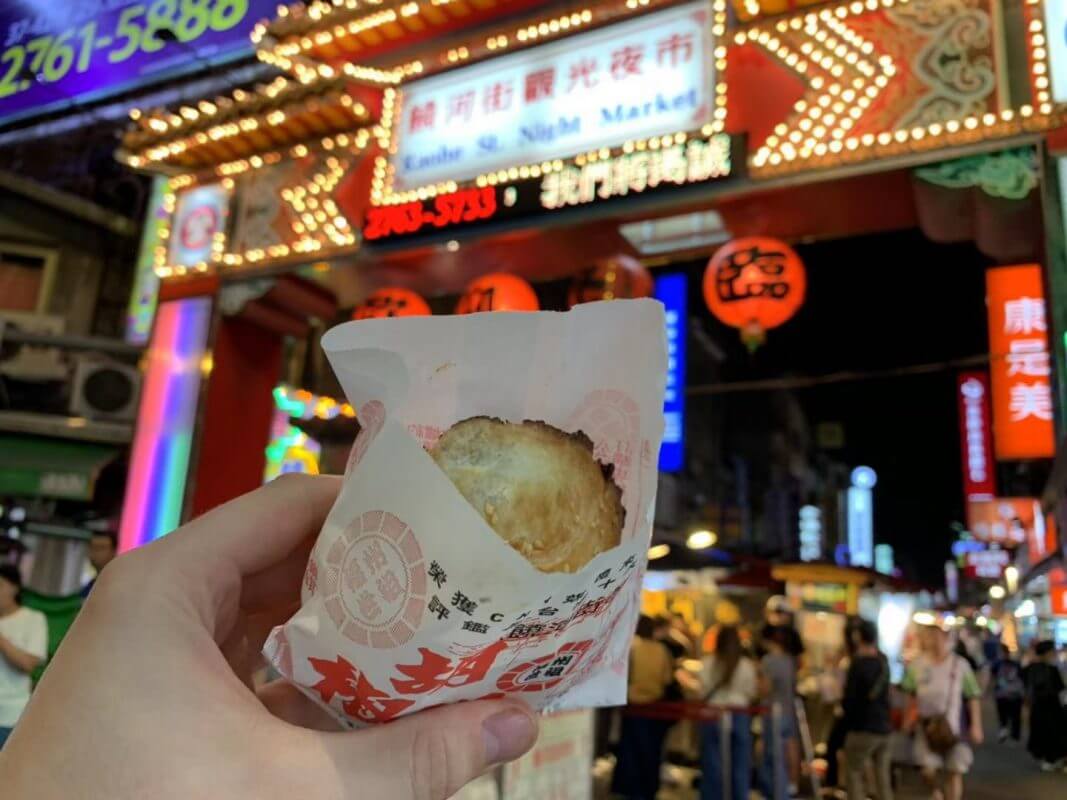 Back to the street markets we go, but this one deserved it's own entry because it's JUST.SO.GOOD!

What's a 胡椒饼?
OK, 胡椒饼 (hújiāo bǐng) is a Pork Pepper Pie and it's one of the headline acts of the street markets with locals and foreigners alike.
I'd probably go as far as saying it is THE headline act given the queues I've seen for the little pocket of intense flavour. If you are lucky, you might catch a short queue, but rarely/never no queue at all!
If you come to Taiwan, and eat Pork, you absolutely cannot leave without trying this.
HOW TO FIND IT –
Directions: The two street markets mentioned above have this delight but I'd recommend Raohe as it's the first stall as you enter, well laid out to queue, and you can even get some great videos of them making the buns whilst people gaze in awe, jaw-dropping, mouth-watering! For Raohe, you'll be going to Songshan MRT (松山).
Things to do in Taipei #11 – Spend the afternoon/evening in Tamsui 谈水
Quite possibly one of my personal favourites on the entire list. Located at the very far west of the red line. This gem is a must visit.
Tamsui 谈水 (actually pronounced Dam Shway, or Dan Shui) offers some excellent picture opportunities, a delightful, bustling Old Street and delicious street food.
Located by the river, I'd advise making your way here around 3/4pm (as advised by our LTL teachers) so you arrive in time for a picturesque sunset as you weave your way down these enchanting little pathways.
Many locals set up camp here and play their guitars/drums as adoring locals pass by and hand out tips to their favourites. There's some quite wonderful characters you'll likely stumble across.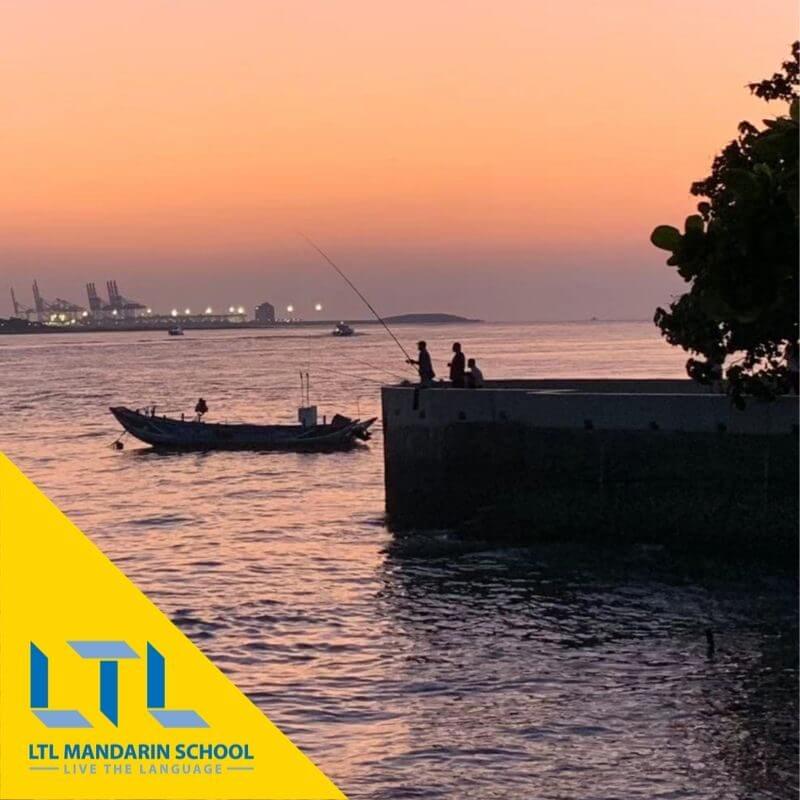 Located alongside the Tamsui River at the very north of the island, you'll be greeted with some beautiful riverside views after you jump off the Taipei MRT. Take a leisurely stroll parallel to the river and grab a few pictures.
You'll then be on your way to the quirky Fort San Domingo.
First built in 1629 by the Spanish, this is a great place to wander and take in one of the more attractive spots in all of Tamsui District. Again, a sunset visit is advised if you can.
Loop back around and you'll come to Tamsui Old Street 谈水老街 (談水老街).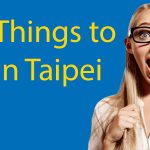 Weird and Fun Things to do in Taipei (for 2023)
If you're looking for the quirkier side of Taiwan's capital, we've got you covered with our top 10 guide of alternate and fun things to do in Taipei.
Much busier, but equally charming there are plenty of treats to bump into here. I particularly enjoyed the British Restaurant which served Devonshire Scones with clotted cream (a personal favourite from my home in southwest England), although I never got around to testing them!
You must set some time aside for a visit to this wonderful pocket of Taiwan.
Here is the route from LTL Mandarin School in Taipei.
Things to do in Taipei #12 – Take the Maokong Gondola
First things first, this trip was a little rushed due to time constraints so this wasn't seen to it's full potential.
Having bombed to the end of the brown MRT line and taken the half an hour Gondola up to Maokong (in pitch black by the way), there was little opportunity to full enjoy the scenes at the top.
That said, a late-night visit allowed us to take in Taipei city, under wonderful lights, in all its glory. Unfortunately, though, we didn't get a great chance to enjoy the local tea plantations.
There are many tourists who go specifically to Maokong to visit the plantations and socialise so to miss this aspect was a shame, but the night views made the journey and the walk worth it alone.
The Maokong Gondola operates between Taipei Zoo and Maokong.

The entire cable car ride is about 4km, which stops at 4 stations in total.
If you are a tea lover, this is a place you must see, if you like beautiful city views from above, this is also a must-visit. Just give yourselves a bit more time than we did.
I'd recommend arriving at the top around 2pm so you can stroll around for a couple of hours, grab a drink and enjoy a gorgeous sunset at one of the restaurants.
HOW TO GET THERE –
Directions: Take the Metro to Taipei Zoo station 动物园站 (動物園站), the terminal station on the south side of the brown line. From here take a 5-minute walk (all signposted) to the Maokong Gondola entrance, grab your ticket and it's all aboard the Gondola. You can use your Easy Card (the Metro card) to pay for the journey, it's 120NTD each way so make sure you are topped up beforehand.
Things to do in Taipei #13 – Feast on 小籠包 at Din Tai Fung
THE BEST XIAOLONGBAO IN TAIPEI!
May as well get to the point! The famous Din Tai Fung is not specific to Taipei, it's world-renowned in fact, but whilst you are here you must feast on some of the best 小笼包 (小籠包) xiǎo lóng bāo in all of Taipei.
Located on the basement floor of Taipei 101, expect queues at peak times. I had to wait 70-90 minutes to be seated with 80 people in front of me (although this was a holiday weekend).
Luckily the wait was only 60 minutes and there is a huge mall to discover whilst you wait.
The menu is broad, the fillings of the Xiaolongbao are varied, and the quality of service is exceptional.
Why not try the Custard/Chocolate Xiaolongbao for something a bit more left-field, something for those with a sweet tooth, and better than you may imagine!
DID YOU KNOW || Din Tai Fung's very first, original restaurant was founded in 1972, in Taiwan!
It's a bit more pricey than your night having street food, but a great change of pace, and food of the highest quality.
HOW TO GET THERE –
Directions: Our friend the MRT is here to save us again. Take the Metro to Taipei 101, towards Xiangshan (象山) on the red line, and alight, before following the signs to Taipei 101/World Trade Centre.
Things to do in Taipei #14 – Visit the Addiction Aquatic Development
I think this is my favourite on the list.
Bear in mind I'm not a huge seafood lover by any stretch.
This sublime "development" if that is indeed the right word has the ability to shock and awe you not just with sights, but with tastes and flavours too.
The Addiction Aquatic Development (上引水產) is a gourmet marketplace with all things seafood.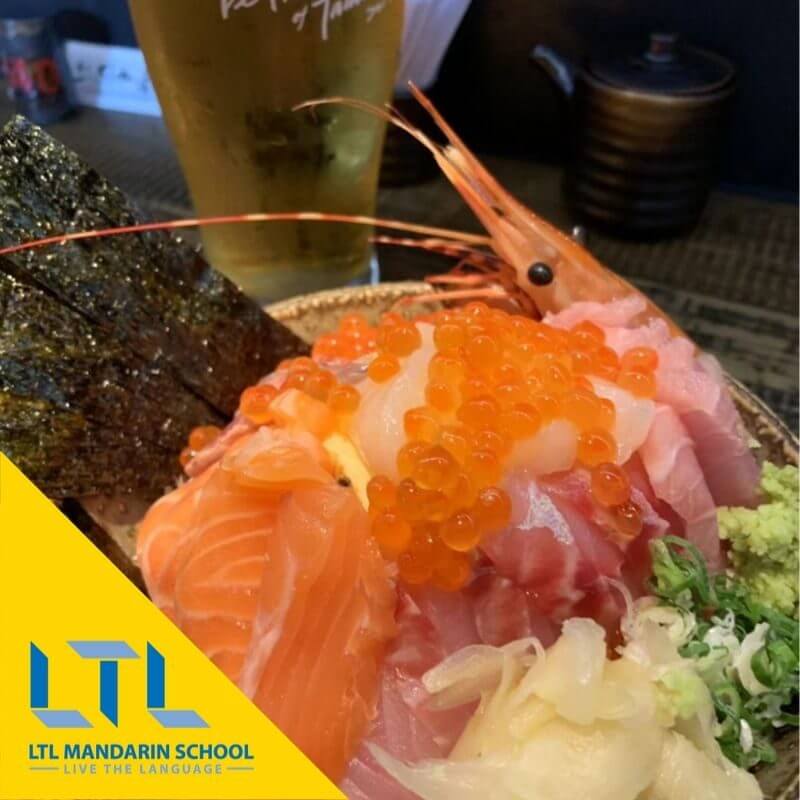 When entering, you are greeted with an area of tables where you can enjoy food, or just a crisp, local beer in the sunny weather.
On one side is a small supermarket, which in truth, is nothing special. It's the gourmet market where things get very interesting.
Upon entering, your hands are sprayed with sanitiser (something I really like about Taiwan), and you are greeted with a huge number of king-sized crabs in containers, loads of them.
I'd go as far as saying King Size does not do them justice, they are absolutely huge, and constantly trying to escape the boxes they are housed in. Although I never saw it myself, I've no doubt it must've happened before!
Stroll through this area for more of the same, king sized shrimp/prawns, crabs of all sizes etc. All live, in front of your eyes. Mind-blowing stuff to be honest.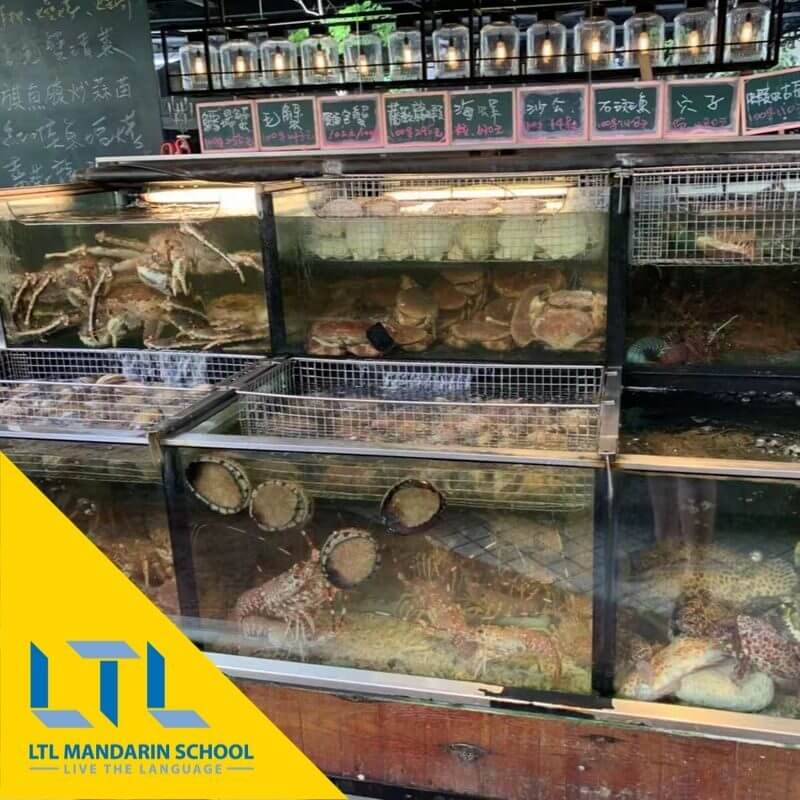 As you go around you'll see some stairs which lead to a gorgeous, gourmet supermarket which has anything and everything.
It's seafood paradise!

But there's more…
Sure, you can purchase anything you want here, but you can even get stuck into the best Sashimi and Sushi, at the famous standing restaurant, or even enjoy a glass of wine at their cute little bar – all right in the heart of the supermarket.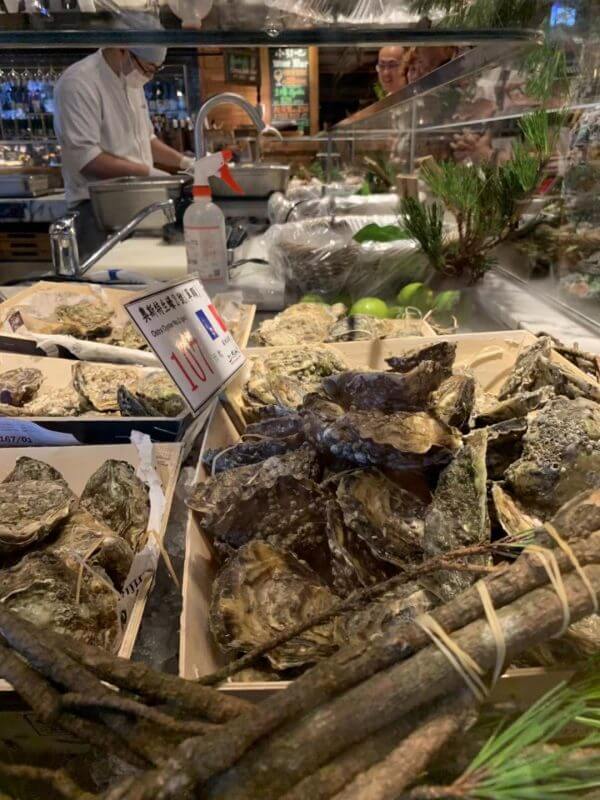 I cannot stress this enough though – AVOID PEAK HOURS.
I went here twice in the space of a week. The first time there was no way I was getting a seat for sushi, the second time (outside of peak time) was more comfortable.
Head to the till, give your order, and if you are lucky, you'll be housed opposite the chefs.
Continue around, take it all in, and maybe grab a glass of wine at the bar to finish off, and you've experienced my favourite thing in Taipei.
Again let me stress, I am not even a seafood lover – that's how fascinating this place is.
HOW TO GET THERE –
Directions: Ok, little more complex this one as there is about a 15-minute walk from the MRT. Head to Xingtian Temple stop on the Yellow line and head north, then east. Cross under the big bridge and follow the map below until you see the entrance where there should be a multitude of people around, at any hour!
Things to do in Taipei #15 – Drink Bubble Tea
It's a given, but it's a must.
Taiwan, the home of Bubble Tea, if you've not had it before, now is the time.
There isn't an awful lot to add here especially given the fact we covered this in great detail already, but what I would say is that having sampled three kinds and three brands, one stands out.
Taiwan Bubble Tea || What is Boba? Your Complete Guide
Bubble tea, Boba, bubble milk tea, bubble pearl tea, tapioca ball tea, boba nai cha, tapioca pearl drink, Taiwan bubble tea… Call it what you like.
That place is called TIGER SUGAR, and the tea you want is the famed Brown Sugar Pearl Tea with/without cream.
It's a colourful treat that one must try whilst in Taipei.
They're all very good, but this one edged it.
HOW TO FIND IT –
Directions: You cannot miss it. It's that simple. Bubble Tea is everywhere in Taipei. My favourite TIGER SUGAR, was based in Ximending, right in the heart of the touristy area, but there are many to find.
Last But Not Least
Two of our students, Tobias and Mikkel, from Denmark filmed a wonderful 90 day vLog of their time in China and Taiwan studying Chinese with LTL.
They produced many great videos not just about learning Chinese but what you can do in your free time and this one fits the bill quite well.
Want to go shopping in Taipei and don't know where to go? Take it away boys…
Come to Taipei!
So, what do you think? Have we missed anything out, are you excited to get to Taipei?
We love it, which is why we opened a school here. It's a truly wonderful place to learn Chinese.
It's super safe, it's friendly, it's happy and it's full of things to do!
You can check out further things to do in Taipei at Triprovider.com who have a great page dedicated entirely to Taiwan.
Come to Taipei!
Is Taipei safe?

Taipei is probably one of the safest cities in the world.

Crime is rare here and the people are super friendly.
Is Taipei fun to visit?

Taipei is relaxed and calm, but at the same time provides a host of great things to do that suit all kinds of tastes.

This is a must visit city.
Is there much to do in Taiwan aside from Taipei?
Can I study Chinese with LTL in Taipei?

Of course.

Taipei has fast become one of our most popular cities.

We'd love to see you study Chinese in Taipei with us 🙂
Want more from LTL?
If you wish to hear more from LTL Mandarin School why not join our mailing list.
We give plenty of handy information on learning Chinese, useful apps to learn the language and everything going on at our LTL schools!
Sign up below and become part of our ever growing community!
BONUS | Want to study the local Taiwanese dialect known as Hokkien? We provide Hokkien classes in person and online.