The Ultimate Taiwanese Street Food To Try (+ Bonus Video Content)
Taiwanese Street Food // Top Tips for Finding the Best Eats on the Streets of Taiwan
Taiwanese street food is world-famous.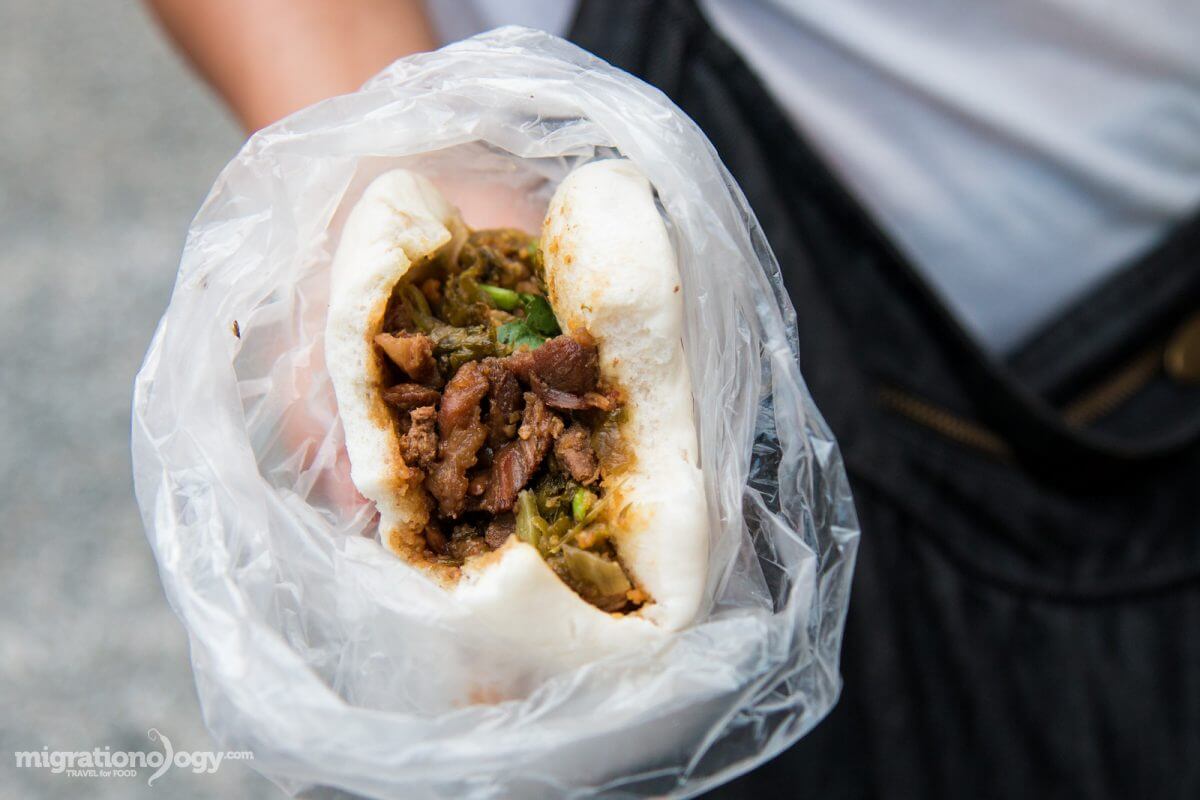 It's day and night street food markets are a popular attraction both for tourists and locals, and an important part of Taiwan food culture.
Night markets stay open until past midnight, so if you find yourself hungry after a few beers enjoying Taiwan's nightlife or just fancy an evening stroll amongst the hustle and bustle of Taiwan life, Taiwan's night food markets are your perfect answer.
The only trouble you'll have is choosing which delicious treat to go for!
Filled with MSG, your tastebuds will be ready to explode! So make sure to pass on your weekly Maccies or KFC and keep it local.
So, we've put a list together of some of our favourite treats you can grab at a Taiwan street food market.
Stuck for where to find these treats?
See below for our list of top Taiwanese street food markets in Taipei!
---
Taiwanese Street Food – Fried Chicken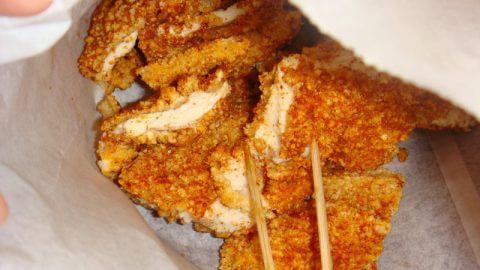 Not your average KFC, this Taiwanese food is fried chicken with a difference.
The most popular of the fried chicken varieties you'll find at a Taiwanese street food market is the deep-fried chicken breast cutlet.
It's seasoned with special salt and pepper powder, with a choice of adding spice with chilli powder.
Slightly spicy, it's a perfect warmer for those cold Taiwanese winter nights when you're out on a stroll.
No matter winter or summer, these are however a popular snack throughout the year.
Not a fan of chicken?
There are many fried chicken vendors throughout the many Taiwanese street food markets who also sell a variety of foods – pretty much anything you can fry.
This includes other meats, fish, tofu, and vegetables.
Taiwanese Street Food – Small Sausage in Large Sausage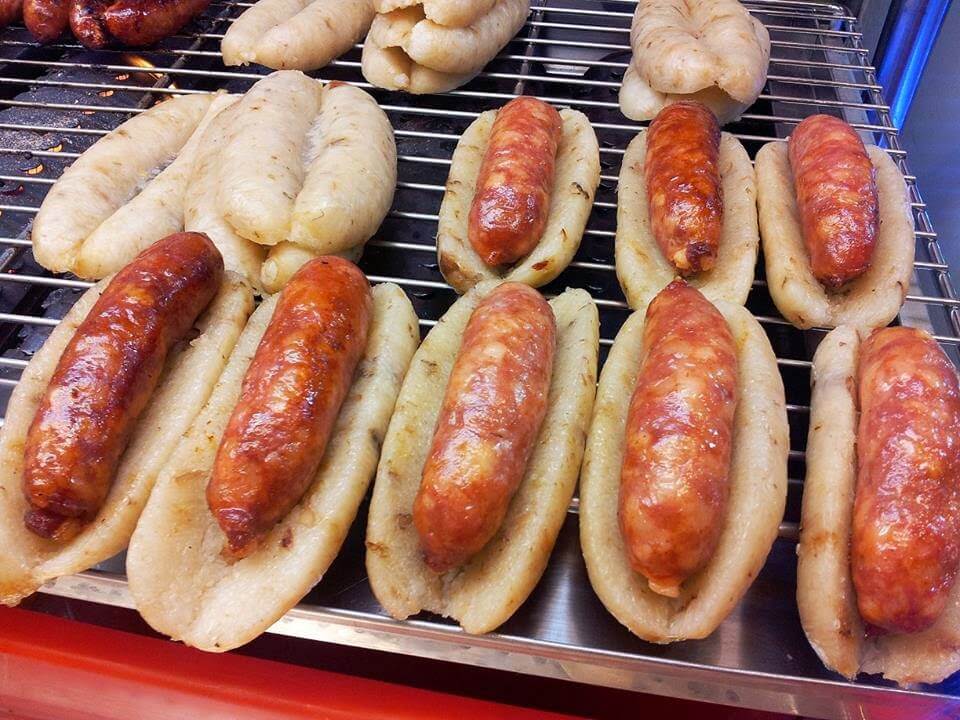 Yes, you read that right! Small sausage, big sausage!
This classic Taiwanese food has a brilliant name. If that's not reason enough to grab one, it tastes pretty darn good too.
The name is a literal translation of the Chinese name 大腸包小腸 (Da Chang Bao Xiao Chang) which literally means 'small sausage in large sausage'.
The name seemingly gives everything away. But think about it, small sausage in little sausage? How does that work..?
The 'small sausage' is a sweet pork sausage grilled. The 'big sausage' is made from rice and acts as a sticky wrapper around the 'small sausage'.
This filling snack will have you set for hours. Add soy sauce or wasabi to the mix and you have an explosion of flavour that lasts.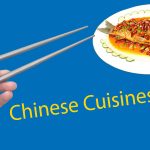 Chinese Food Culture // The 8 Great Chinese Cuisines
Chinese cuisines have typically been divided into 'Eight Great Cuisines' as a means of simplifying this vast and complex tradition.
Taiwanese Street Food – Red Bean Cake (Dorayaki)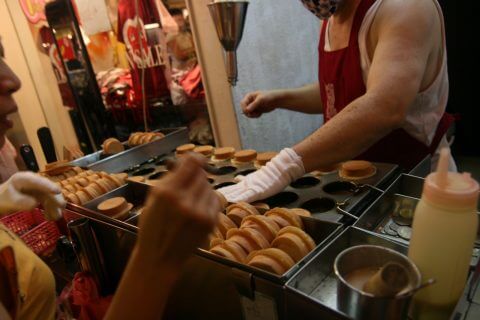 Japanese food, especially Japanese sweet snacks, is very popular in Taiwan.
One of the most popular is the sweet red bean cake Dorayaki.
This is a very sweet, fluffy cake-like bun that is fried.
In the middle, you'll find a sweet red bean paste common in a lot of Japanese snacks.
These sweet pancakes are made fresh right in front of you, and taste best when still hot!
Other variations of this popular food in Taiwan also include custard or other sweet fillings.
Taiwanese Street Food – Ice Cream Runbing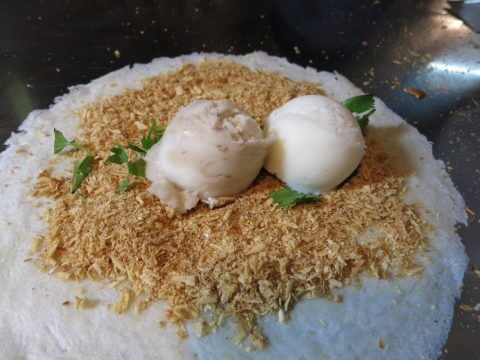 Another one for those with a sweet tooth, this ice-cream burrito is perfect for a hot summer's day, or to give you that energy boost whilst roaming the busy streets of Taipei.
A 'Runbing' is a type of burrito/spring roll made out of flour.
It acts as a wrapper, usually in sweet form around vanilla ice cream and topped with crushed peanuts.
For those who prefer a savoury snack, this Runbing can also be found stuffed with bean sprouts and pork, or other meat variations.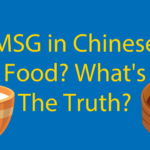 MSG in Chinese Food 🥡 Our Friend or Unhealthy Foe?
Chinese cuisine is misunderstood as oily & unhealthy. Is our takeaway the real Chinese food or a MSG-filled copy? What's the deal with MSG in Chinese food?
Taiwanese Street Food – Pig Blood Cake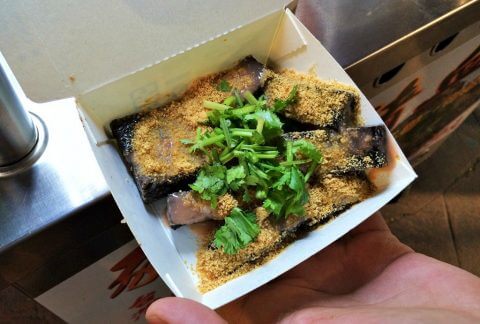 Less of a 'cake' and more just pig's blood – don't let the name deter you.
This Taiwanese food is similar to the British breakfast food Black Pudding.
However, a mix of sticky rice and Taiwanese seasonings make this pudding rather different from its British counterpart.
It certainly requires an acquired taste and isn't for everyone, but it's something for the avid foodie to give a go at least once!
Taiwanese Street Food – Sausage on a Stick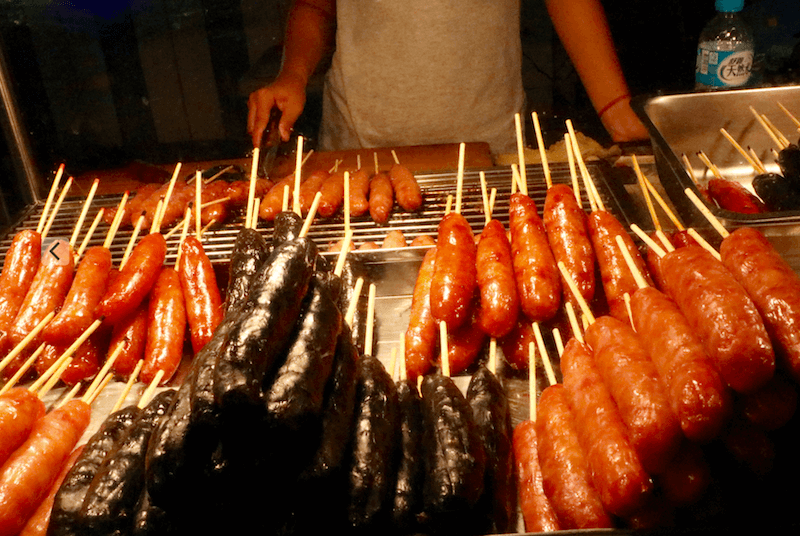 This Taiwanese street food needs little introduction, as the name leaves little to the imagination.
However, it is a sausage unlike you probably know it.
Unlike the average Western sausage, this Taiwanese food is much bigger and contains considerably more fat.
This makes it all the tastier, but all the more unhealthy. Well, when in Rome!
This traditional Taiwanese food has been around forever, and you definitely can't skip out on having a bite when roaming one of the Taiwanese street food markets!
Food in Taiwan || Top Taiwanese Food You Simply Cannot Miss
Food in Taiwan is full of flavour and variety. Using a base of noodles and rice, with strong flavours and lots of meat (mainly beef and pork) and fish.
Taiwanese Street Food – Aiyu Jelly Drink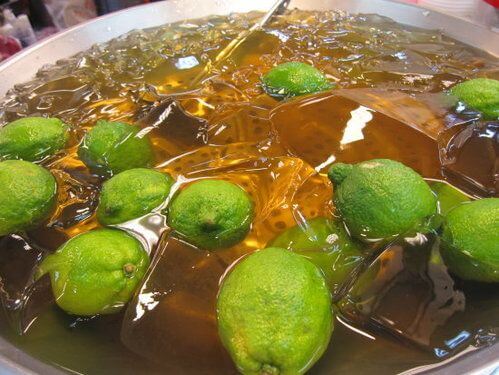 Fondly known as 'frog's eggs' (don't worry, it's not!), this jelly drink is made from the seeds of a certain fig.
It's then served in a mix of sugary sweet water and a bunch of lemons.
It makes for a great refreshing drink on those hot summer Taiwan days and can fill you up as a quick snack in between meals!
Not feeling a cup of refreshing frog eggs, but need something to quench your thirst?
Taiwan's Boba/Bubble tea is your answer!
In larger cities such as Taipei, you can find bubble tea street vendors and cafes around nearly every corner.
It's definitely a must if you haven't tried it yet!
Taiwan Bubble Tea || What is Boba? Your Complete Guide
Bubble tea, Boba, bubble milk tea, bubble pearl tea, tapioca ball tea, boba nai cha, tapioca pearl drink, Taiwan bubble tea… Call it what you like.
Taiwanese Street Food – Shaved Ice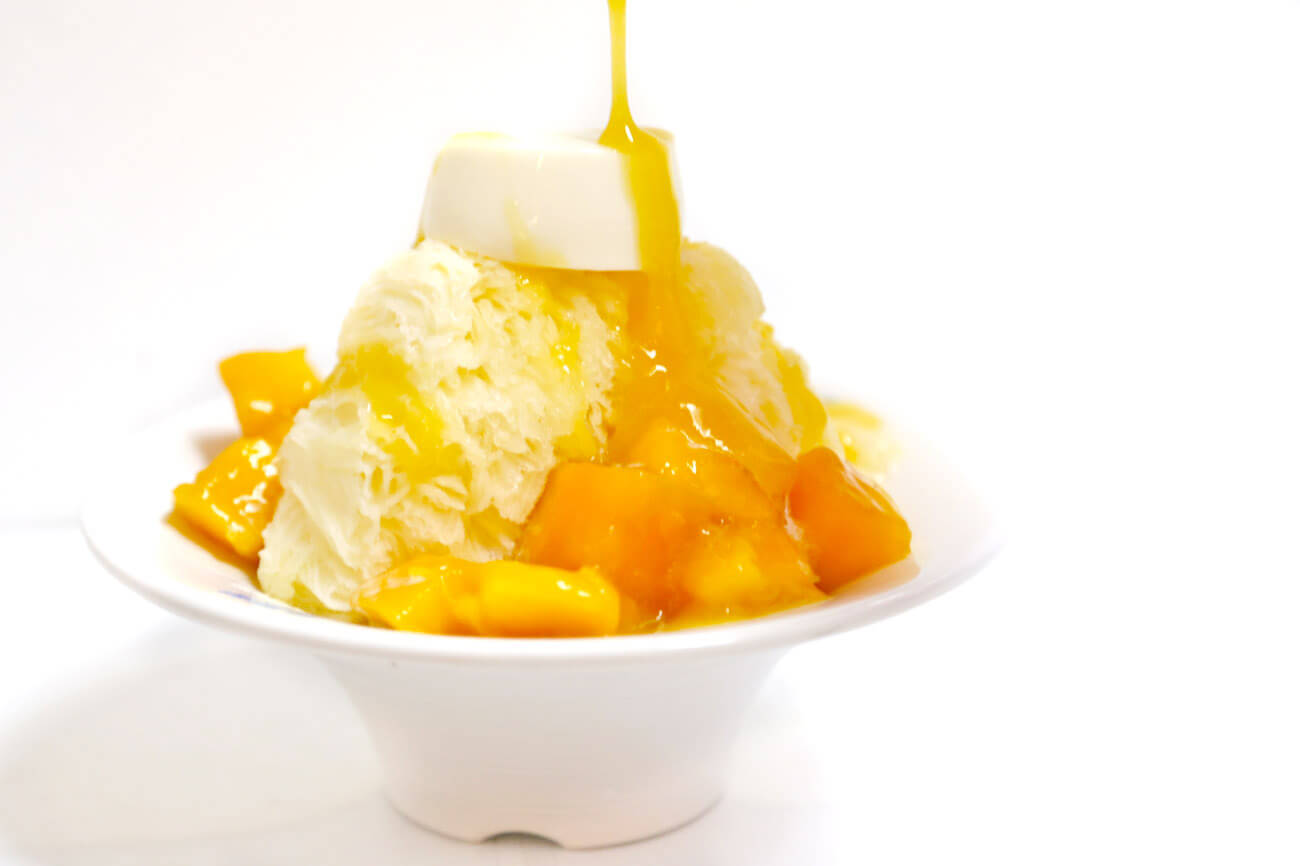 Shaved ice, or baobing, is a life-saver in the hot, humid summer months in Taiwan.
As the name suggests, it is a bowl of shaved ice! I often used to wonder myself why you would pay so much for a bowl of shaved ice when it's just… ice.
Well, this dessert isn't just ice. It's so much more!
Topped with various garnishes such as fruits, nuts and syrups, you'll be hooked from your first mouthful.
A wide variety exists and you can customize your bowl. Condensed milk, tapioca balls, grass jelly, peanuts… The list is endless, and there's something for everyone.
What's more, is the ice isn't just normal ice. It's specially produced ice for the shaved ice dessert, with air pumped into it to ensure… better taste?
We're not quite sure, but the ice is special.
We couldn't finish the article without recommending one of our favourite brekkie spots in Taipei. OK it's not street food, but this is too good to pass up – check it out.
BONUS – Taipei's Best Street Food Markets
Where to find all of these tasty snacks? Here's a list of Taipei's best street food markets to keep you busy.
Find any others you'd recommend?
Leave a comment below!
Shi Lin Market (士林夜市)
Xi Men Ding (西門町)
Rao He (饒河街觀光夜市)
Jing Mei (景美夜市)
Shi Da (師大路夜市)
TOP TIP || 夜市 in Chinese is Night Market. You'll see it a lot in Taipei!
Inspired to come and see what Taipei is about? See what our friends Tobias and Mikkel thought about their time in Taipei.
---
Taiwan Street Food || FAQs
What is the biggest night market in Taiwan?

Shi Lin Market (士林夜市) is the biggest and most famous. It's also the busiest!
Can I buy street food in Taipei late at night?

Night markets stay open until past midnight, so if you find yourself hungry after a few beers enjoying Taiwan's night life or just fancy an evening stroll amongst the hustle and bustle of Taiwan life, Taiwan's night food markets are your perfect answer.
Can I eat my dinner at night markets?

Absolutely, there are many things to eat and seating at all the night markets in Taipei.
Is there really a dish called Small Sausage in Large Sausage?

Yes! The name is a literal translation of the Chinese name 大腸包小腸 (Da Chang Bao Xiao Chang) which literally means 'small sausage in large sausage'.
Want more from LTL?
If you wish to hear more from LTL Mandarin School why not join our mailing list.
We give plenty of handy information on learning Chinese, useful apps to learn the language and everything going on at our LTL schools!
Sign up below and become part of our ever growing community!
BONUS | Want to study the local Taiwanese dialect known as Hokkien? We provide Hokkien classes in person and online.