Taiwan 7-Eleven ❤️ Your Insider's Guide + Things You Never Knew
Discover the Magic of Taiwan's 7-11 & 10 Things You Didn't Know Were on Offer…
(thank us later)
In Taiwan, you're never more than a five-minute walk from a 7-Eleven, and this chain takes the concept of a convenience store to a whole new level.
They're a unique feature of life in Taiwan and a one-stop shop for visitors and locals.
Taiwan 7-11 || Why So Special?

Taiwan 7-11 || Feast Like A King

Taiwan 7-11 || Open ALWAYS

Taiwan 7-11 || Not Just a Convenience Store

Taiwan 7-11 || 10 Things You Didn't Know You Can do at 7-11

Taiwan 7-11 || FAQs
---
Why Are Taiwan 7-Elevens Special?
One on Every Corner / Open All Hours
You can't miss a Taiwan 7-Eleven, especially in Taipei.
There are more than 5,000 stores across the country, and many of them stay open 24 hours a day – there was public outcry earlier this year when 400 stores announced they would no longer stay open through the night.

True story.
This convenience, combined with the huge range of products and essential services on offer, has established the brand as an integral part of Taiwanese life.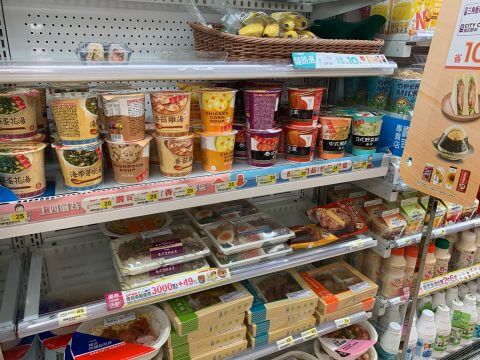 The staff aren't just cashiers but baristas, tech advisers, and tax collectors.
The chain has its own mascot, Open Chan (a dog from outer space) who's a celebrity in his own right.
7-Eleven's holding company even owns a basketball team, the Uni-President 7-Eleven Lions.
To see the services on offer at your nearest 7-Eleven, check out this page.
Food in Taiwan || Top Taiwanese Food You Simply Cannot Miss
Food in Taiwan is full of flavour and variety. Using a base of noodles and rice, with strong flavours and lots of meat (mainly beef and pork) and fish.
Feast Like a King at a Taiwan 7-Eleven
Hungry? In a hurry? On a budget?
7-11's got you covered.
You could probably eat every meal at 7-Eleven over a week without munching the same dish twice.
Take your pick from a mind-blowing range of Taiwan specialities, like baozi, sushi hand-rolls and sandwiches to baked potatoes, tea eggs, hotdogs and pork buns.
DID YOU KNOW || Larger Taiwan 7-Elevens have an oden station, where you can make your soup by adding fish-balls, veggies and tofu to broth.
If none of this takes your fancy, pick up a ready-meal or pot of noodles and microwave it in-store.
When purchasing, the staff might offer to microwave it for you. Otherwise, you should head over to the microwave area yourself. There are instructions on the package (pretty clear even if you don't speak Chinese) on how to cook it!
Yes, you read that right – you can heat up your ready meal and enjoy it at the tables in-store.
A lot of the stores have 7-Eleven's own City Café inside, offering everything from a cold-brew iced lattes to bubble tea.
Finish it off with an ice cream from the freezer.
And did we mention how cheap everything is?
Open Always (Even During Typhoons)
Nothing stops the Taiwan 7-Elevens – not even hurricane-strength weather and emergency warnings.
While most businesses, schools and workplaces close on government-declared typhoon days, 7-Elevens stay open.
They Sell *Everything* (seriously)
No matter what you need during your stay in Taiwan, this should be your first point of call: 7-Elevens stocks a surprisingly large range of stuff.
As well as food and drinks, they sell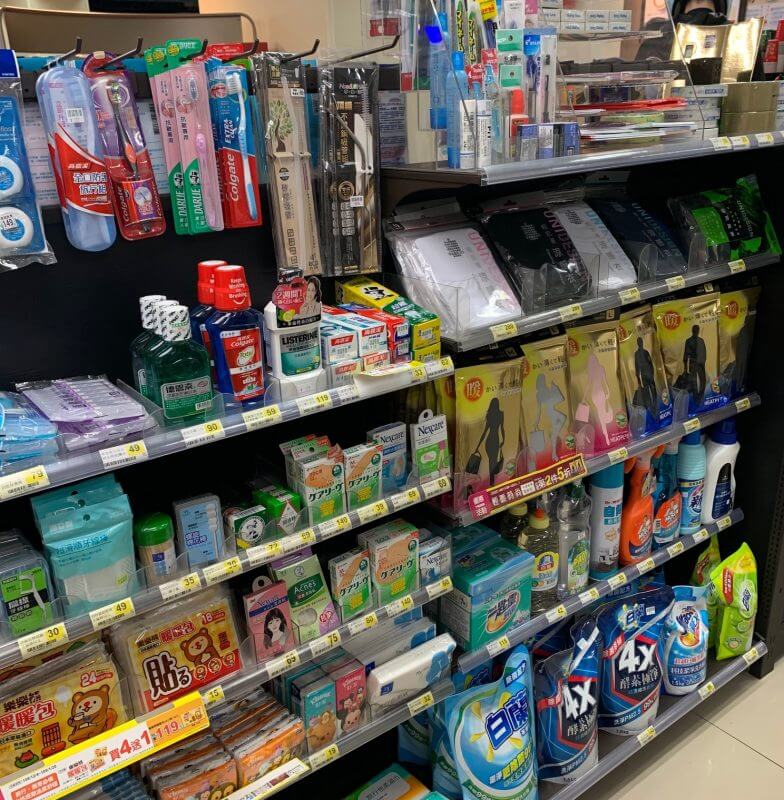 They collaborate with other brands to create mini-ranges and collectable series, and have whole range of merchandise featuring Open Chan the space dog.
Everything you never knew you needed.
It's Not Just A Shop. (Far from it)
10 Things You Never Knew You Can do
at Your Local 7-11
1. You can Withdraw Money, Pay Taxes, Bills and Fines
Not only will you find ATMs in 7-Eleven stores but you can pay money that you owe – everything from parking tickets to speeding fines and electricity bills.
As long as it has a bar-code and you're paying cash, 7-Eleven will take care of it.
This means you can sort out your insurance while buying groceries and enjoying a coffee.
Convenient or what?
2. They're a Travel Agency
Book your rail journey at 7-Eleven.
You can buy Taiwan Railway and Taiwan High Speed Rail tickets at the ibon kiosks, or book them online and collect them in-store.
If you decide not to travel, you can get a refund the same way.
Fancy catching a show while you're in town?
Use the kiosk to browse live events and book tickets. The machines are easy to use and offer services in English and Japanese.
3. They sell Sim Cards
Head to the Taiwan 7-Eleven when you need to fix your phone: you can use the ibon system for buying a sim card and recharging your voice or data credit.
You can apply for 4G prepaid card anytime at any 7-Eleven with your passport and visa and enjoy 5 days of unlimited data usage for NTD 350.
After that, you can re-deposit for 1, 3, or 5 more days or switch to a monthly plan. See the ibon website for more information.
4. Get your Dry Cleaning Done
Some 7-Elevens offer a dry-cleaning service. Take in your washing and they'll take care of the rest.
5. They'll Call You a Taxi
Although Taiwan has Uber, there aren't always cars available in every area.
Not to worry.
Your nearest 7-Eleven will call you a taxi, and you can enjoy a tea-egg while you wait.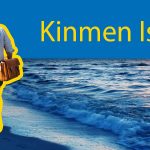 A Complete Guide to Kinmen Island // The Gateway to the Mainland
Kinmen Island, Quemoy, or rather Kinmen County/Kinmen Islands are a group of islands administered by Taiwan; not just one island! Come and discover it.
6. Receipts are Lottery Tickets
In an effort to encourage retailers to issue receipts to customers, the Taiwan government turned it into a lottery.
Each receipt – no matter how small the purchase – bears a unique number that gets entered into the nationwide lottery every quarter.
So save your Taiwan 7-Eleven receipts and if your stay is only short-term, gift them to a Taiwanese friend when you leave.
7. Take a Nap
You wouldn't be the first person to do it… this happens a lot more than you'd imagine!
8. It's a Print Shop
Need to print out your boarding pass, visa forms, or something for your LTL homework?
Taiwan 7-Eleven stores have a printer hooked up to the ibon kiosk.
Don't worry if you don't have a memory stick, simple ping your document to ibon by email to print it in-store.
You can also print photos from your phone in the same way – perfect for preserving memories of your Taiwan trip.
Visit ibon.com for more information.
9. 7-Eleven is a Post-Office
That's right: you can mail from 7-Elevens and have packages sent there.
7-Eleven has its own courier service, separate from the post office, and the service is more user-friendly for foreigners struggling with Chinese.
Make sure you have the recipient's address in Chinese and the cashier will usually be happy to help you fill in the delivery form.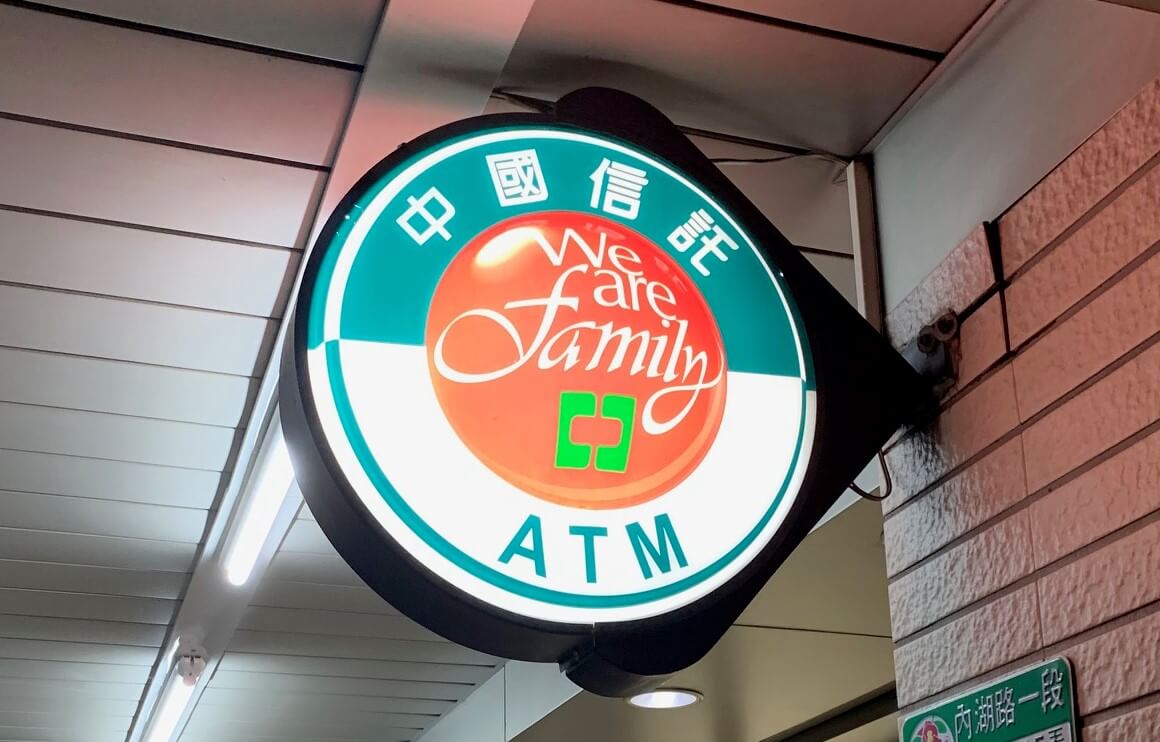 And if you're sending something to another person in Taiwan, you have the option of sending it to their nearest 7-Eleven.
Order something online and not sure you'll be home for the delivery?
7-Eleven can take care of small packages and keep them until you come to collect them.
Could this store make life any easier?
10. They Have Toilets
7-Elevens offer every other service, so why not?
Do we need to say anymore? The Taiwan 7-Eleven truly takes the word convenience to a whole new level.
So get yourself to Taiwan, and when you do, you know exactly where to go for food, drink, washing, electricals, nap time, coffee… the list goes on!
Have you been to a 7-11 before? What was your opinion? Tell us in the comments below.
Taiwan 7-11 || FAQs
How many 7-11's in Taiwan?

There are more than 5,000 stores across the country.
What are the opening hours for the Taiwan 7-11's

They are open 24 hours a day, 7 days a week!
Do 7-11's in Taiwan have toilets?
Are there printers at 7-11's?

Yes.

Need to print out your boarding pass, visa forms, or something for your LTL homework? No problem, you can get hooked up to a printer at a local 7-11.
---
Want more from LTL?
If you wish to hear more from LTL Mandarin School why not join our mailing list.
We give plenty of handy information on learning Chinese, useful apps to learn the language and everything going on at our LTL schools!
Sign up below and become part of our ever growing community!
BONUS | Want to study the local Taiwanese dialect known as Hokkien? We provide Hokkien classes in person and online.