A Complete Guide to Kinmen Island // The Gateway to the Mainland
LTL's Guide to Kinmen Island Taiwan 🏝
Kinmen Island, Quemoy, or rather Kinmen County/Kinmen Islands are a group of islands administered by Taiwan; not just one island!
4 main islands make up the Kinmen island group; Dadan, Erdan, Little Kinmen, and Kinmen main island. All of which we'll talk about below!
They are located just 2km from the mainland's South-East coast of Fujian Province.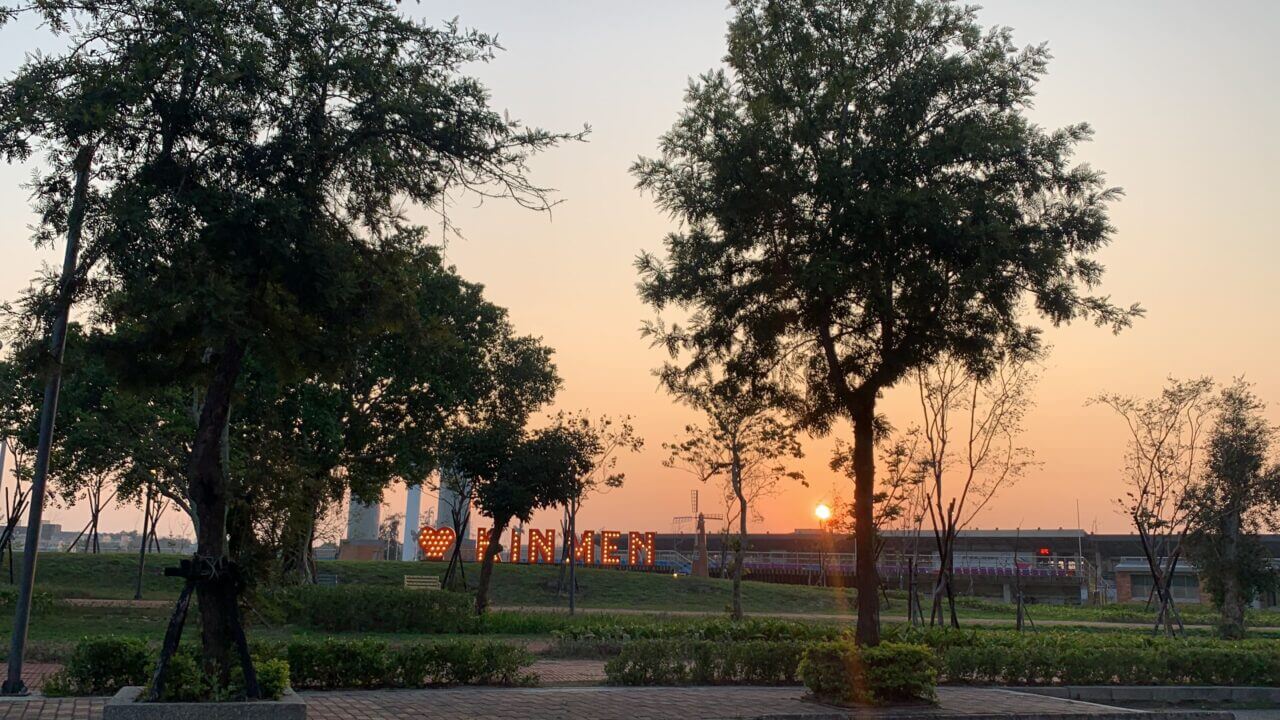 The islands' positioning meant that it played an important role in the civil war between the Nationalist and Communist forces.
Kinmen still holds many remnants from this period, for those interested in the military history of the islands.
But aside from relics of the island's military past, there is plenty more to see in this charming place.
It's famous for beef, knives, and the famous Kao Liang Liquor… an interesting combination!
Kinmen Island || The Name

Kinmen Island || Getting to Kinmen Island

Kinmen Island || History

Kinmen Island || Accommodation

Kinmen Island || Three Top Things to Do

Kinmen Island || Kinmen Sites (2-5 days in Kinmen!)

Kinmen Island || What to Eat?

Kinmen Island || FAQs
Kinmen Island || The Name
A quick summary of the many names for Kinmen Island.
Literal Meaning: Golden Gate (金 Jīn = Gold; 门 mén = Gate)
Mandarin Pronunciation: Jīnmén (pinyin)
Mandarin Pronunciation: Kinmen (Taiwan)
Traditional Chinese Characters: 金門
Simplified Chinese Characters: 金门
Former Name: Quemoy (from Portuguese – Taiwan itself used to be called Formosa)
Getting to Kinmen Island
You have a couple of different options for getting over to Kinmen island in Taiwan:
Xiamen to Kinmen by Ferry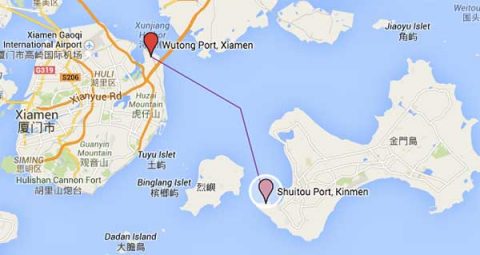 If you're heading to Kinmen from mainland China, it might be more direct to travel via Xiamen and to take a ferry over to Kinmen.
Xiamen serves flights from all over the country. Once you arrive at the airport you can take a bus directly to the ferry pier for just 10 CNY. The buses run throughout the day around once per hour/ 1.5 hours.
You can purchase your ticket (160 CNY) to Kinmen upon arrival at Xiamen's ferry pier.
If you're planning to come back via mainland China make sure that you have another entry on your Chinese visa, otherwise you will not be allowed back in.
You also need to check Taiwan's visa regulations to see how long you'd be allowed to stay on Kinmen and whether you should apply for a visa first.
Kinmen Airport
If you're heading to Kinmen from Taiwan's main island or vice versa then flying into Kinmen airport is probably the easiest method of transport.
There are several flights from Taiwan's big cities, such as Taipei, over to Kinmen every day.
On average a flight should cost around 1000 CNY or less if you find a good promotional fare.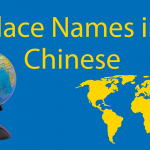 256 Place Names in Chinese 🌏 Rotterdam or Anywhere, Liverpool or Rome…
What are the world's most famous place names in Chinese? We've got a complete list here, 256 to be precise. From Rome to Rio, Japan to Jakarta!
Kinmen Island – History
Before visiting Kinmen, it's important first to understand its rocky history which is still very relevant today.
Its strategic location just a few kilometres away from China means that it has been at the forefront of war since the founding of the PRC and ROC, who both lay claim to the island.
It is currently governed by ROC government but has been attacked previously by the PRC who tried to win it over.
It was never under Japanese rule interestingly enough when Japan occupied Taiwan, however, it was briefly occupied by Japan as part of WW1.
People started to arrive on Kinmen during Tang Dynasty. It was during this time that horses were brought over and a horse pasture was set up. You can still see these horses gazing in the fields today – along with the multiple cows you'll find throughout the island.
Let's look at a timetable of brief recent history and important events in Kinmen.
1912: Establishment of ROC rule, Kinmen ruled under Fujian province

1937: Under Japanese rule

1945: End of WWII, ROC arrived in October and from then on was governed as ROC

1949: PRC takes nearby Dadeng, Xiaodeng and Jiaoyu islands.

1949 (October): PRC attempts to capture Kinmen at the Battle of Guningtou. It is a failed attempt.

1954/1955 and 1958: First and Second Taiwan Strait crises.

1992: Until 1992 the island was under martial law

2015: Dadan and Erdan open to tourism after being handed over from the military

2022: Kinmen's famous bridge opens!
Now, tourism plays a big role in Kinmen's economy, second only to its production of Kaoliang liquor which is exported throughout Taiwan and the famous Kinmen knives. These knives are made from artillery shells.
41% of tourists in Kinmen were from mainland China, as Chinese can go over and apply for a visa on arrival; without having to prepare it beforehand.
After COVID-19 hit in 2020, there was a great lack of tourism that hit the economy hard. To counteract this, the Kinmen government attempted to attract more local Taiwanese to the island, including some war veterans who could explore where they were stationed at the first years ago.
Kinmen Island – Accommodation
There are plenty of hostels and cute guesthouses all around the island. If you're planning to rent a car or a scooter it shouldn't matter exactly where you stay, as you'll probably want to go all around the island seeing the sights.
TOP TIP || If you're planning on getting to places by public transport and cycling, it might be easier to stay closer to Kincheng, the main town on the island.
Kinmen Island Top Things to Do
So you know how to get here, and whereabouts to stay, but what is there to do on Kinmen Island?
Read on to discover our top 3 suggestions for things to do on Kinmen island that really reflect the unique nature of the place.
Of course, there are plenty more things to see on Kinmen, it has some great beaches, beautiful lakes and hills. Also, make sure to take a stroll through any of the smaller villages in Kinmen, you'll be sure to find exquisite Minnan architecture. These are Fujian-style houses not seen throughout the rest of Taiwan!
You'll definitely not be bored spending a few days here!
And it's a great place to practise your mandarin skills, as not many of the locals can speak English.
1. Kinmen Island Top Things to Do – Drink Kaoliang Liquor
Kinmen Island's most famous export is probably its potent 'Kaoliang Liquor', often also referred to as 'Gaoliang wine' or 'Sorghum wine'.
Chinese Name: 高粱酒 Gāoliáng Jiǔ
高粱 literally means sorghum, and 酒 means alcohol.
Kaoliang Liquor is one type of 白酒 Báijiǔ (lit. 'white alcohol'), a term which is used to refer to several different types of Chinese liquor made from grain.
Kinmen Kaoliang Liquor is one of the most popular brands of drink in Taiwan.
It comes in varying strengths, ranging from around 40 to 60% proof! It's strong stuff. And it's everywhere on Kinmen Island.
Apart from being available to buy a bottle for a sneaky drink whenever you choose, or to take home as a souvenir to give to your best buddies, you can find lots of drinks and snacks with Kaoliang Liquor in the ingredients list. For example, we found: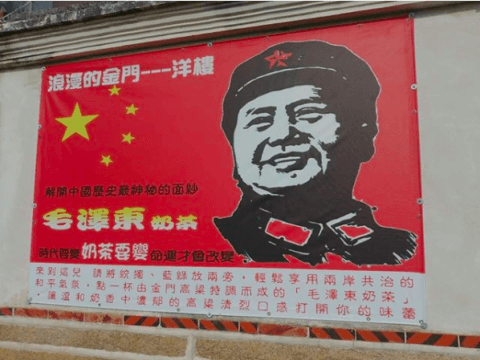 A cafe selling Kaoliang Wine coffee (hot or iced!)
Kaoliang Wine infused milk tea at Chairman Mao's Milk Tea Shop
Sausages flavoured with Kaoliang Wine
Kaoliang Wine-based cocktails
If you take a trip to Kinmen island, be sure to let us know what you find to add to the list!
As well as being in all of the foods and drinks, you can tell that Kinmen Island is proud of its product because dotted across the island there are numerous statues of Kaoliang Liquor bottles lining the roads.
There's also a Kaoliang Wine museum you can visit if you want to know more about the making process.
Former Name of Taiwan 🏝 Isla Formosa and Taiwan History
When discussing the former name of Taiwan, Formosa & Isla Formosa come up as previous names of the Island, but how turbulent has Taiwan's history been?
2. Kinmen Island Top Things to Do – Military Tourism
DID YOU KNOW || Due to Kinmen Island's close proximity to Xiamen and mainland China, it was an important strategic position during the Civil War between the Chinese Communist and Nationalist forces.
Because of this, a number of the top tourist attractions and sites on the island have a connection to its military past:
Zhaishan Tunnel (Zaishan Tunnel)
You'll find plenty of underground tunnels on Kinmen Island. During times of fighting, tunnels were used to bring supplies on to the island inconspicuously.
The Zhaishan Tunnel is the largest on the island, stretching for around 160km.
It has become a popular tourist destination in recent years, and there's even a music festival based here in the summer time.
The bright blue water and echo-y chambers, give the tunnels a feeling of mystery. Go visit to see this interesting relic of more turbulent times. And entry is free!
Mashan Broadcasting and Observation Station
As the closest point to mainland China on Kinmen island, Mashan was a strategically very important outpost during war times.
Navel operations between the mainland and Kinmen were monitored closely from here.
It was also used as a broadcasting station to send messages out over the water towards the mainland. These messages transmitted by radio were generally trying to encourage soldiers on the other side to surrender.
DID YOU KNOW || Sometimes pop music propaganda was sent out across the waters too.
Today the station is another popular tourist attraction – you can listen to sample messages, see the broadcasting station, look through binoculars over to the mainland, and even take a look at the advanced toilet systems available to the soldiers stationed here at the time.
PRICE – Entry is also free of charge.
3. Kinmen Island Top Things to Do – Find the Wind Lion Gods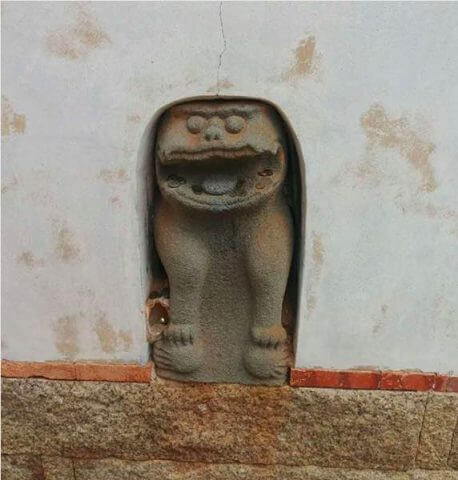 Wind Lion Gods are scattered across Kinmen Island.
They are icons of large beasty creatures, usually in the form of statues.
Locals of Kinmen Island placed them around the island for protection, a result of the times of conflict on the island.
Each statue has a different pose and different features.
Due to these varying designs, the statues have become an attraction for tourists in themselves.
You can hunt out the different Wind Lion Gods across the island if you fancy a bit of an adventure.
Or if your time is more limited, you can take a visit to the Wind Lion God Park which is home to 63 replica Wind Lion God statues.
Kinmen Island – Kinmen Sites (2-5 days in Kinmen!)
Guningtou
There are three sites in the Guningtou village area to not miss.
The first is the Guningtou Archway; an archway you'll come across as you enter the village area.
Beishan village itself is a site not worth missing, with incredible architecture.
To give this all context, though, you really need to visit the Guningtou Battle Museum. It tells the history of the fighting at Guningtou and the scars its left behind.
One for those interested in history and culture.
Hu Xia
In the Huxia area, there are three things you can enjoy;
The first one is the Hu Xia San Jian Lou Zai. Three houses built by three brothers with some beautiful art on the outside. The village of Huxia also has many beautiful homes, some derelict. Be careful as some is private property, too
Hu Xia Seawall is just a few minutes walk away and a nice place to view the sea with a little watch house to keep you out of the wind.
If you're a Wind God collector, Huxia is also home to Hu Xia Wind God!
Nanshan & San Yan Well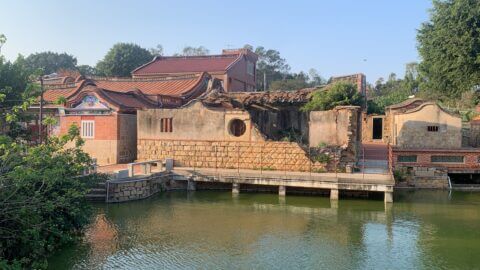 A beautiful village full of Fujian-style architecture, this village also holds an interesting and sad insight into the past. This area was greatly affected by war and you can see many houses remain derelict and you can even see bullet holes in some of them still.
You can also find a centuries old well here, and if you're lucky will also get a view of the noodles drying next to them from the noodle shop next door.
Beishan
North of Nanshan (nan meaning south, bei meaning north) you have a couple of interesting things to look out for. Beishan has Beishan Seawall worth visiting if you're into sea and sand and you've had enough of other sites, or if you're passing by (but not a site worth a trip out to make).
Beishan Broadcasting Wall, however definitely is a site you don't want to miss. It's basically massive speakers that used to blast propaganda and music across the water into China. When I say massive speakers, they really are massive… You have to go here to understand the true size of these speakers.
If you want, go for a walk further down and climb down some ropes onto the beach.
Cihu
The most popular time to visit Cihu is at sunset. The sun sets right on the beach, giving you an amazing view of China to your right, the new bridge to your left, and in the middle is Little Kinmen, behind which the sun sets.
You can also visit here in the daytime, of course, and visit the fort next door. There are also tanks along the beach. A road separates a lake and the sea.
If you have time, do the circuit around the lake. It's an important stop for many migratory birds and bird watchers will certainly enjoy this spot!
Triangle Fortress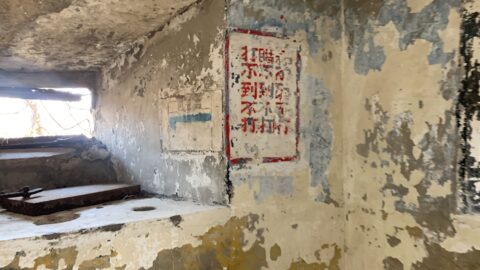 The Triangle Fortress is located right next door to the Cihu area. It's a great fortress to walk around, and even better it offers a small coffee shop and bits of food at the top of the fortress. A really unique place to enjoy afternoon tea, and it provides some pretty beautiful views!
Make sure the shop is open beforehand.
Xuengshibao
Another fort very close to Jincheng city, if you're staying here it's only a 2-minute journey and worth it for those sea views you get from a lot of the forts.
If you have to give something a miss, though, this can be one of them.
Juguang Tower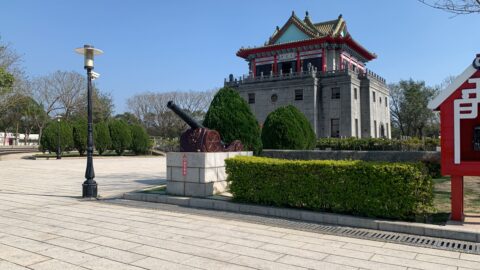 A lovely place to admire the view of the city from the balcony on the top, as well as admire the wonderful architecture of the tower on the inside.
There are sometimes special exhibitions on but all of it seems to be in Chinese, unfortunately.
It's one of the main attractions on Kinmen and I'd definitely recommend a stop-by. Again, another short but worthwhile visit.
Jiangongyu Islet
Jiangongyu is a separate island/islet yet again. A very small piece of rock just a few minute's walk from Kinmen's main island, the walkway opens up for just one hour a day at low tide… It is an islet that used to be a military outpost and therefore it's like another fort there. But since it's its own island, it's pretty unique. Plus, you'll see a massive statue of Kongxia there.
If you manage to catch Jiangongyu on low tide, then you are in for some luck! Jiangongyu is only accessible 30 minutes before and 30 minutes after low tide.
There is a board up monthly showing you the access times recommended. 
It's not advised to go later since… the walkway to this islet will be completely filled with water. If you're not careful, then you'll get trapped on the islet after the water starts coming in.
It does play music when visiting time is open, though, so I presume it might alert you when you need to leave – although all of the announcements are in Chinese. 
One cool thing to do here is walking around the whole islet. Watch out, though, because whilst it's interesting to see, the glass placed in the rocks to protect the islet is still very much there and can very much hurt you – although most of it has worn down now.
Deyue Tower & Shuitou Village
Deyue tower and Shuitou village are absolute musts. It's recommended to put aside an hour or two here if architecture and beautiful villages are your thing… Take your time and get lost amongst the beautiful old houses and down the cobbled streets.
Deyue Tower is the main attraction here, and it certainly sticks out. Visiting here gives you an awesome insight into the overseas Chinese community. For hundreds of years, many of them made their riches in Southeast Asia, including Singapore and Indonesia.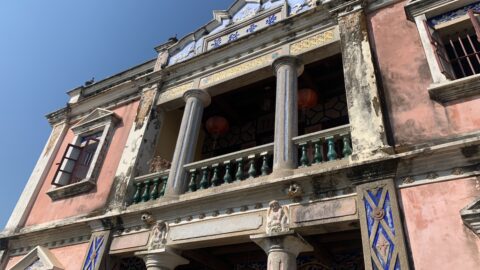 Walking around Deyue Tower in Kinmen, you'll find lots of bits and explanations about this overseas Chinese community. An insight like no other!
The story goes, that many overseas Chinese who made their riches then came back to Kinmen to build houses. Having spent time abroad, they'd build western-style houses. Many of these western-style houses are noticeable throughout Kinmen, contrasting sharply with the otherwise very Chinese-looking Minnan style from Fujian that can be seen all over Kinmen island.
Deyue Tower came into existence as a rich merchant built his property, and it soon needed to be protected. Around the time of building, piracy from the Japanese was popular. And this tower lies in the heart of the richest district on Kinmen.
Zhaishan Tunnel
Visiting the Zhaishan tunnel on Kinmen is another absolute must; although the tunnel on Little Kinmen is a good visit too. It's a large complex where you can explore both outside and inside. A walk around inside takes about 20 minutes and the whole cave blasts out peaceful classical music during your tour around the tunnel system.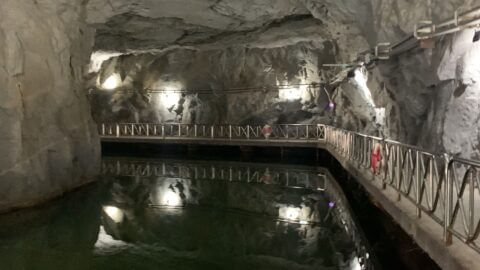 Every October, there's a classical concert that plays here. If you can catch this, I imagine the acoustics must be incredible!
Music aside, this tunnel system carries a large amount of history, and also holds a large amount of back-breaking pain and effort that went into its building.
It was done by hand by the military in order to store and move military equipment such as ships and submarines. Outside, you'll see these on display. You can also look at the tunnel from the outside.
So it's worth a look around!
OuCuo Sandy Beach (& tank)
A gorgeous wide stretch of white sand, Oucuo sandy beach is the perfect place to visit for some beach time.
Another attraction here are the defence systems placed in the sand along the beach (that you can find along the other coast at Cihu, too), as well as a tank that's buried in the sand.
This tank is right down the other side of the beach. It can only be seen around low tide and is covered at high tide. It's pretty cool to see a real tank half-buried in the sand, and modern history becomes very present…
Zhushan Village
Zhushan Village is a gorgeous village well worth the stop off. You can walk around here for half an hour, get lost in the alleyways and find you can't find your scooter anymore…
Bring your camera loaded with battery because the aesthetics here are on point.
In reality, it is just a simple, tranquil village. The main attraction is the beautiful Minnan architecture you'll find, as well as some abandoned buildings, temples, and lakes.
You can also stay here in one of the BnBs you'll find around!
Yannan Shan
A small museum and beautiful building, it's worth visiting Yannan Shan just for the incredible view.
Most recommend visiting at night when you get a great view of the city all lit up.
Ming Yi Old Street
A street worth driving through and taking a small stop to look around if you enjoy old and traditional architecture. There is also a beautiful archway.
Maoshan Pagoda
A nice walk up that takes just a few minutes and gives you a great ocean view as well as a view of the city on the other side.
I'd really recommend visiting here for sunset as there is a small area with table and chairs that overlooks the sea and sunset (I wish I'd brought some snacks or wine!).
Kinmen Bridge
An attraction in itself, Kinmen Bridge definitely deserves a massive mention here.
It only opened a the end of October 2022 so I was very lucky to be able to go across it.
Actually, I only found it because I went for a run nearby and saw it. According to Google Maps, it still doesn't exist. It's the 5km long bridge connecting Little Kinmen and Kinmen together.
The biggest of its kind in both Taiwan and potentially East Asia. An amazing piece of engineering that you can either take your car, scooter, or bike over. 
If you fancy it, it makes for a great run – although its windy!
You can also walk over, if you want!
Although it's there for practical reasons, even the Kinmen government themselves have said that a great proportion of its value is in tourism to it alone, not just the practicalities!
Before it was completed, you needed to get a ferry over to Little Kinmen. Now you can even take the bus over!
Very practical, and with incredible views over to mainland China, it's really not a site to be missed.
Wrap up warm, though!
Kinmen Island – What To Eat?
Beef
Beef is the most famous dish in Kinmen. Cows are rife about the island so you'll find loads of restaurants serving beef with hand-made noodles.
Guangdong Zhou
A kind of 'zhou'/porridge particular to this area made with really light, but also gloopy rice. It's unique because normally, Zhou has bits of rice clearly in it – but this one has been ground so much and is more watery that there is no clear visible rice in it.
Peanut Candy
A very famous candy dessert/snack!
Taro Icecream
Famous especially in Litte Kinmen, don't miss out on tasting this treat that's not too sweet but great on a summer's day!
---
That concludes our guide to this beautiful island. Have you been to Kinmen Island before?
Tell us what you think in the comments below.
Kinmen Island || FAQs
What does Kinmen mean?

The Literal meaning of Kinmen is: Golden Gate (金 Jīn = Gold; 门 mén = Gate)
How to go to Kinmen Island?

You can go to Kinmen Island by ferry via Xiamen, otherwise there are several flights from Taiwan's big cities, such as Taipei, over to Kinmen every day.
What to do on Kinmen Island?

There's plenty to do on Kinmen Island, three of the main attractions are:

– Discover the famous Kaoliang liquor

– Have a look at some top tourist attractions with a close connection to the military past of the area, such as the Zhaishan Tunnel.

– Find the Wind Lion Gods that are scattered across Kinmen Island!
Where to stay on Kinmen Island?

There are plenty of hostels and cute guesthouses all around the island so you won't have any issue finding a place to stay.
Want more from LTL?
If you wish to hear more from LTL Mandarin School why not join our mailing list.
We give plenty of handy information on learning Chinese, useful apps to learn the language and everything going on at our LTL schools!
Sign up below and become part of our ever growing community!
BONUS | Want to study the local Taiwanese dialect known as Hokkien? We provide Hokkien classes in person and online.