A Guide to the Penghu Island Group in Taiwan 🏝️ PLUS Island Hopping Insights!
A Comprehensive Look At The Penghu Archipelago – 90 Islands of Surf, Sea, and Sand
Penghu is an island group in the southwest of Taiwan.
Its crystal clear waters and white sands have been little known for the past few years…
Penghu Islands are the perfect addition for your Taiwan itinerary.
With untouched natural scenery and hundreds of years of history to explore, it's definitely worth getting off the beaten track for this one!
Penghu county is actually made up of a massive 90 islands – so there's plenty to explore!
If untouched white sand beaches, crystal clear waters and hidden delicacies are for you, Penghu Islands aren't to be missed.
You can delve into the rich history and culture of the island, as well as enjoy pristine (so far untouched) white sand beaches and crystal clear waters.
Whilst we won't visit all of Penghu's 90 islands today, but we try to cover the main ones.
Penghu Islands | An Introduction

Penghu Islands | Name

Penghu Islands | History

Penghu Islands | How to Visit

Penghu Main Islands:

Penghu Islands | Xiyu 西嶼

Penghu Islands | Baisha 白沙

Penghu Islands | Magong 馬公

Penghu Islands | Huxi 湖西

Penghu Outer Islands:

Penghu Islands | Qimei 七美

Penghu Islands | Jibei吉貝嶼

Penghu Islands | Wang'an  望安嶼

Penghu Islands | Hujing 虎井嶼

Penghu Islands | Tongpan 通盤嶼

Penghu Islands | FAQs
---
Penghu Islands || An Introduction
Penghu island in Taiwan is actually a set of islands, 90 of them to be exact that make up the Penghu archipelago.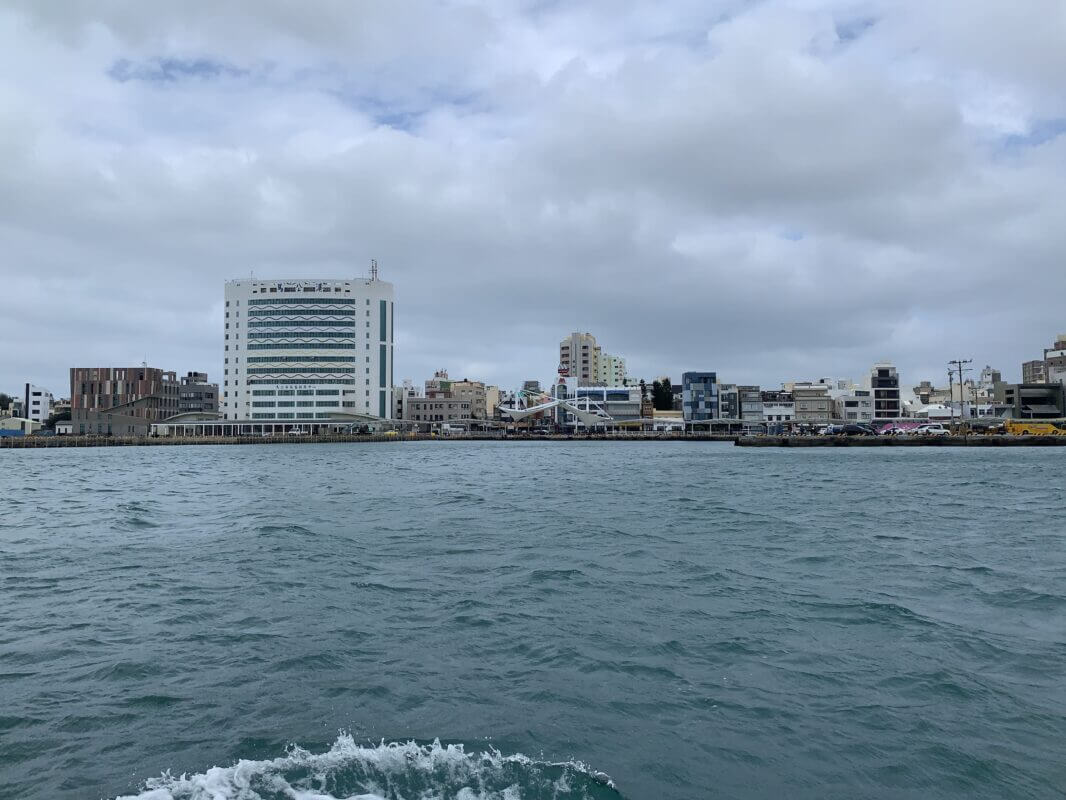 Since Taiwan only has 166 islands, Penghu's 90 certainly make up a fair bit of Taiwan's outer islands.
Not all 90 can be explored, but visiting Penghu's outer islands gives an experience like no other.
Penghu is also a county in Taiwan – indeed, Taiwan's smallest county.
It covers an area of 141 sq kilometers and has one city for all the islands, called Magong. Magong is also romanised as Makgung, depending on what spelling system you're using.
Many of those earlier fishing communities who had settled in Penghu believed in worshipping Mazu, the God of the Sea. This is where the capital city, Magong, gets its name.
Most visitors will stick to the four main islands:
馬公 Mǎgōng
湖西 Húxī
白沙 Báishā
西嶼 Xīyǔ
It's been getting more and more popular in the past decade thanks to investment from the government's tourism board. And it's one of those that will look completely different in another decade.
Already there are massive changes in infrastructure on the island and everywhere you look there are new build houses, BnBs, and some apartments being built.
Penghu has done a great job of preserving the rich culture and history that make this island so unique, and this seems not to have changed despite the influx in tourists.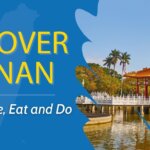 Discovering Tainan's Treasures: 9 Must-Visit Places in Taiwan's Oldest City
Tainan is the oldest city in Taiwan and is teeming with history and culture. Here's our ultimate guide on where to go and what to eat in the old capital
Penghu Islands || Name
The original name of the Penghu islands is "Pinghu"(平湖 Pínghú).
👉In the local Taiwanese Hokkien language, 平 (píng) and 澎 (pēng) are very similar, thus meaning that it could be written as 'Pinghu' and 'Penghu'.
In the end, Penghu 澎湖 stuck as the main name.
Penghu islands are also referred to as "Pescadores Islands". This comes from the Portuguese name; Ilhas dos Pescadores ("Fishermen Islands").
Unsure what Portugal has to do with this small island off the coast of Taiwan's mainland?
Well, that's coming right up…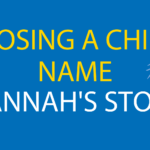 Choosing a Chinese Name Like a PRO, Tips from Native Speakers // How I Discovered My New Name!
Choosing a Chinese Name | After receiving half-amused, half-bemused looks at my old name it was time to act. Check out my adventure for finding a new name.
Penghu Islands || History
According to some records, Penghu's history pre-dates that of the main island of Taiwan.
Song Dynasty
It is said that around the 9th/10th century (Song Dynasty), some Han Chinese from Fujian in mainland China established fishing communities in Penghu.
Ming Dynasty
In the 15th century, during the Ming Dynasty, an evacuation of the island was ordered as part of a 'maritime ban' by the Ming leadership. By 1597, Ming had established a permanent military presence on the island. By the end of the 16th century, the maritime ban was then lifted and legal fishing communities once again established themselves on the islands.
Want to learn more about Chinese history? Check out our Beginner's Guide to Chinese Dynasties here!
Portuguese
This is around the time that things join back up with the Portuguese as we mentioned earlier. The Portuguese at this time had colonised Macau and were trying to build up trade relations in the area.
Dutch
The Dutch (Dutch East India Company) also wanted a part of the pie and were keen on getting China to open its Fujian port for trade with them. They also attempted to defeat the Portuguese and expel them from Macau.
This didn't work, and instead, they retreated to Penghu.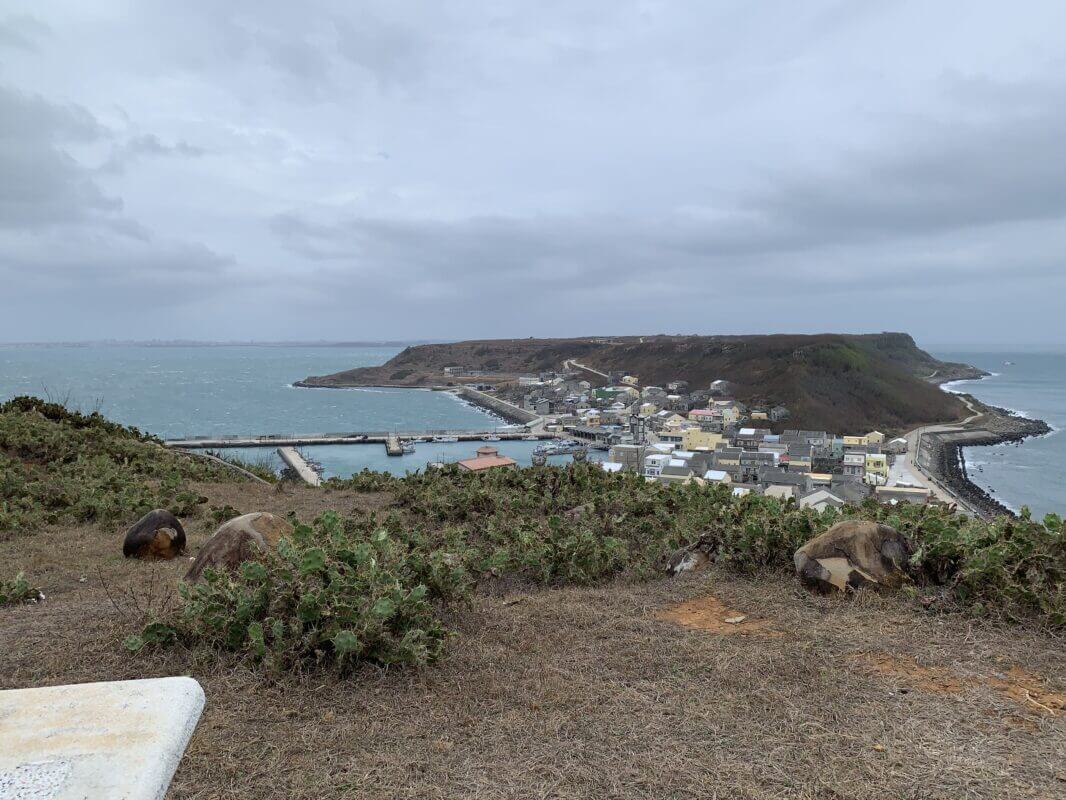 The Dutch then seized Penghu and built a fort there (which you can visit – well, kind of – see below!). It didn't end too well for the Dutch however, as the Chinese responded by eventually forcing the Dutch out of Penghu.
In 1624, the governor of Fujian sent troops to expel the Dutch who then went to Tainan and established 'Fort Zeelandia' on Taiwan's main island. The Dutch clearly weren't ready to give up Taiwan just yet.
French
After the Dutch left Penghu, the French captured it in 1885. Short-lived, though, as the Sino-French war drew to an end and they left only 4 months after arriving.
Qing Dynasty
With the Qing dynasty, or rather the end of it, it was Japan's turn to attempt to take over the Penghu islands.
Penghu County was then called the Hōko Prefecture and Magong would be 'Makō'.
Japan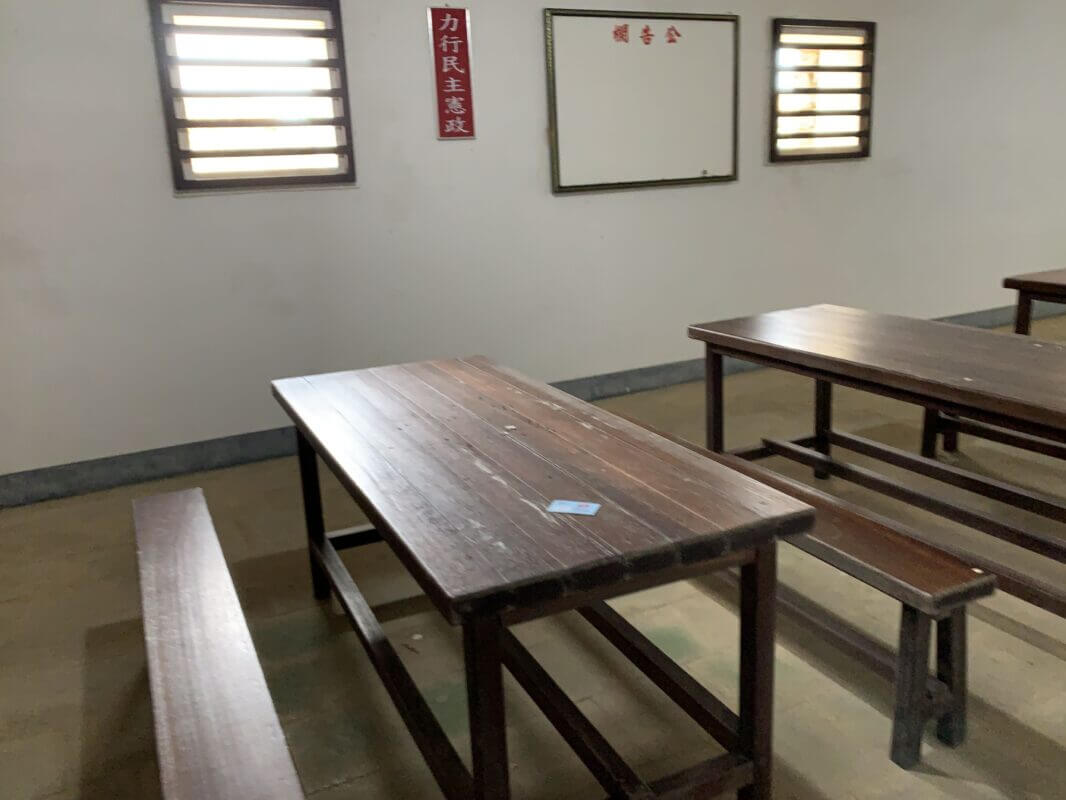 During World War II, Penghu proved to be a major base for the Imperial Japanese Navy.
After Japan's surrender in 1945, and after a few years of indecisions by various foreign and domestic powers, Penghu was finally recognised officially as ROC territory.
ROC
Despite this, the Penghu island groups are very much separate from Taiwan at the same time.
They're not included in the official Taiwan island groups and instead are their own archipelago; Penghu Islands. Just like Kinmen and the Matsu islands, too.
Penghu Islands || How to Visit: Navigating Boats & Tickets
You can visit these islands individually, mainly from the main port in Magong, but also from Baisha island (the island connected to Magong main island).
The ferries run all throughout the day at various times, so make sure to plan ahead.
In order to book any of these tickets, you will need to plan first.
Have a look online if you're not in Penghu already, but there is limited availability in English.
Harbour Visitor Center / South Sea Tourist Centre (南海遊客中心)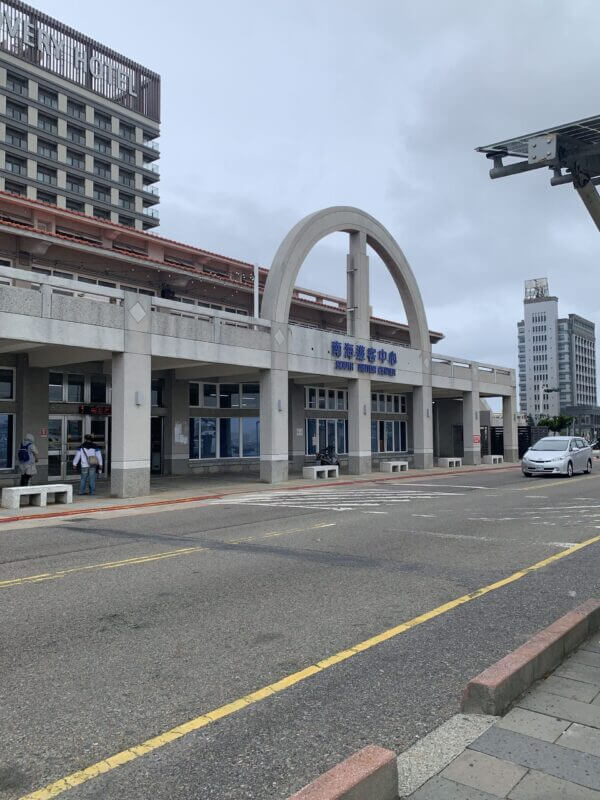 The best thing you can do to visit the Penghu islands is to go to the harbour yourself and ask about times and prices.
TOP TIP || They often change with the day of the week and the time of the season (winter vs summer) so online information may not be up to date.
If you go to the harbour the day beforehand, you can also inquire as to the weather and if it's suitable or not.
There is an information desk at the harbour "Visitor Information Center". There's not a huge guarantee of English language – so get Google Translate at the ready.
At the Visitor Information Center, they can also advise you on whether it is wise to travel or not. Remember, most of the local ships are actually just passenger boats transporting items to and from outer islands as well as transporting residents.
They're not necessarily *for* tourists – although, of course, tourists can use these services. This means that sometimes the boat may go, even though it's not suitable for you to go there for tourism purposes, e.g. the wind is too strong.
It's wise to listen to this advice since you might get there and not be able to enjoy it at all.
Or worse still… you might get there and not be able to get back..!
At the visitors centre, there is also a departures and arrivals board that shows the big companies operating, where they're going, and their time of departure and return.
It also shows the "gate" (i.e. boat port) they're departing from. And it's all in English and Chinese, hurrah!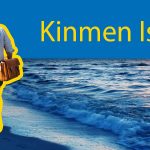 A Complete Guide to Kinmen Island // The Gateway to the Mainland
Kinmen Island, Quemoy, or rather Kinmen County/Kinmen Islands are a group of islands administered by Taiwan; not just one island! Come and discover it.
Private Tour Companies
If you have more cash and less time, you might want to consider booking a tour boat.
These run generally daily and can be very popular during the summer months, so you might want to book ahead.
These are boats that can take you to two, three, or four outer islands on a one-day trip.
They usually include the main ones such as Qimei and Wang'an, Tongpan and Hujing.
TOP TIP || Watch out, some of them will just circle some of these islands without getting off – so you want to make sure it stops at these islands and you actually have some time to explore.
Of course, various companies offer various combinations. Have a look and see what you can figure out online before you go from the company websites, then head down to the harbour to confirm.
If you're at a decent hostel or hotel, they should be able to help you organise this too.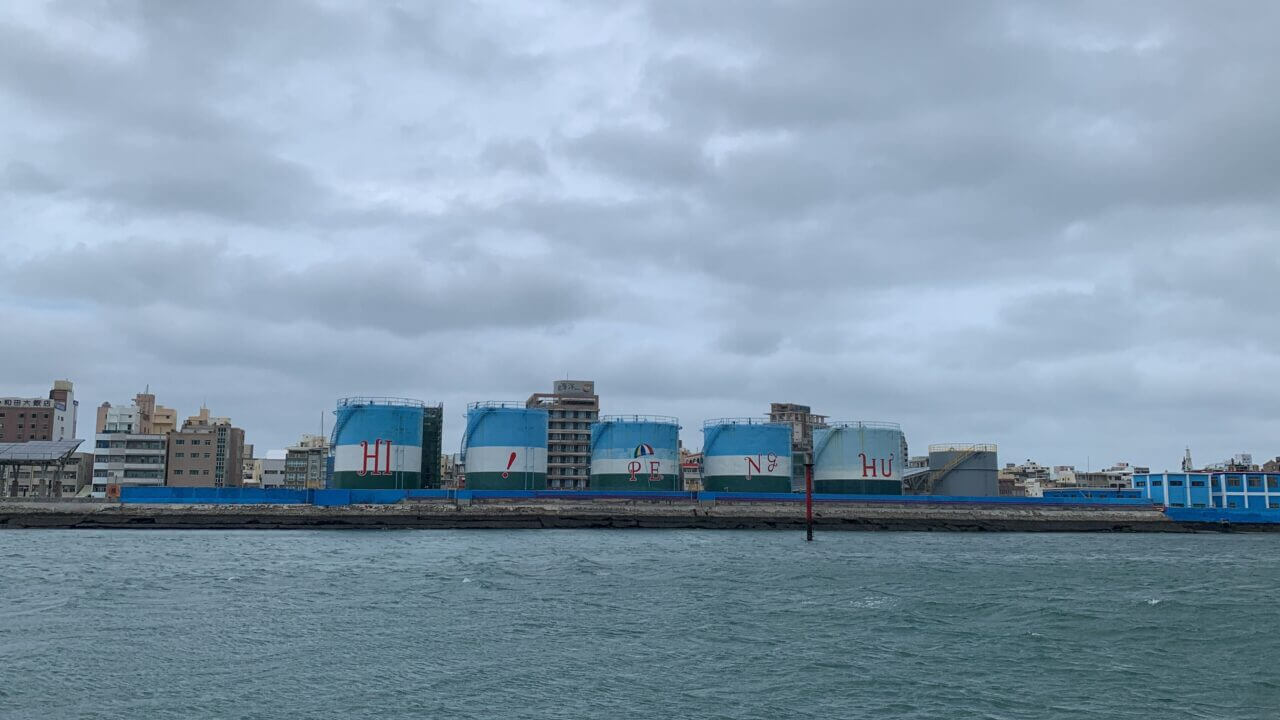 But before all of this, something much harder…
Now you have to decide which islands to visit!
Not all islands in Penghu can be visited. And certainly, not all of them are inhabited.
Some of them offer overnight accommodation, and some of them are only good for day trips. Some depend on the season. So it's vital to plan everything in advance!
… and then be prepared to have your plans squashed because the wind is too strong.
Let's take a look at Penghu's outer islands!
Taiwan Weekend Getaways // The Top 5 Weekend Trips from Taipei
Top 5 Weekend Trips from Taipei // #1 Teapot and Banping Mountain : #2 Jiǔfēn 九份 : #3 Wūlái 乌来 : #4 Baishawan 白沙湾 : #5 Surfing at Wai'ao Beach 外澳海滩
Penghu Islands || Main Islands
Let's start off with the main islands. In this blog, we'll go over these three:
馬公 Mǎgōng
白沙 Báishā
西嶼 Xīyǔ
If you only have a short time in Penghu, or if you manage to catch it on a few days of bad weather and have no way of going to the smaller outer islands – fear not. You can visit a few islands in the main group anyway, and there is plenty to keep you busy! 
All of these islands are accessible by road as they are connected with bridges.
So, let's take a look at the top things to do on each of them:
Penghu Islands || Xiyu 西嶼
Erkan Village 二崁聚落
Historic village taking you back to rural Taiwan.
Basalt Columns 雞善嶼
There are three main structures you want to see on Xiyu; Daguoye Columnar Basalt, Secret Three Stone Walls, and Chixi Rock Waterfall.
These were formed between 17 and 8 million years ago as lava shot through seabed faults as the Eurasian and Philippine Sea plates crossed each other. When the lava blasted through the sea, it quickly cooled and dried. Thus building up the columns!
Whale Cave 鯨魚洞
Check out some interesting rock formations and erosion at this cave calved out by the sea over the years, and learn about geology at the nearby Xiamen Geology Museum. 
Yuwengdao Lighthouse 漁翁島燈塔
Taiwan's oldest lighthouse on record! 
Penghu Islands || 白沙 Baisha
Tongliang Great Banyan 通樑古榕
Tongliang Great Banyan and the Boat Temple are two things you must visit in Baisha!
A beautiful temple and a 200-year-old Banyan tree in front of it! It covers a canopy of a massive 660sq meters. If you can't imagine how big that is, go see for yourself!
Penghu Great Bridge 澎湖跨海大橋
Connecting Baisha and Xiyu, this is East Asia's first deep ocean bridge. And it's quite the sight! 
Please select a post in the sidebar…
Penghu Islands || Magong 馬公
Aimen Beach
Popular for water sports, this beach is a great choice for visitors as it's also very close to the airport!
You can choose from surfing, windsurfing and kitesurfing – the island gets very windy. 
Lintou Beach
This super scenic beach is famous for its long stretches of white sand.
Fenggui Blowholes (風櫃洞)
The ocean-side blowholes are located in the southwest. 
There's also an observation deck, so you can climb the stairs for a better view.
Daguoye Columnar Basalt (池東大菓葉玄武岩)
Beautiful basalt rock formations, perfect for an early morning stroll before the sun gets too strong.
Chixi Rock Waterfall (池西岩瀑)
A waterfall made from cooling lava- not one to be missed! 
Duxingshi (篤行十村)
Duxingshi is the oldest military housing village in Taiwan where the Japanese set up residence during the colonial period. 
Guouye Sunrise Tower
Watch the sunrise from the post popular spot in Penghu! 
Kuibishan Beach
Otherwise known as "Moses Parts the Sea". When the tide is low, see where the sea parts!
Penghu Islands || Outer Islands Islands
Island hopping in Penghu is a hugely popular activity and is definitely worth taking the time to do.
You could consider taking a private tour boat which may visit several islands or important sites in one day before dropping you back off in Magong or one of the other outer islands to stay for the night.
Penghu Islands || Qimei Island (七美)
How to Visit Qimei Island
To get to Qimei from the main island you take a boat from the South Sea Tourist Centre (南海遊客中心)。
You can stay overnight for a night or two on Qimei Island.
What to do on Qimei Island?
–Double heart stone weir (雙心石滬).
The iconic 'Qimei' scene and iconic image of Penghu itself.
This is a traditional fishing trap made in the shape of two hearts. It offers some pretty beautiful pictures on a sunny day with its cute heart shape and turquoise waters.
-Seven Beauties
Here, there is also an old freshwater well.
It is now a sacred shrine dedicated to the 'Seven Beauties'. Seven beauties? Qi Mei? Sounds familiar, you say?
Well, yup. That's correct. It's this well that gives the island its name!
-Little Taiwan (小台灣) (Donghu Village)
This is a small platform formed by erosion that's in the shape of Taiwan!
-Yueli Bay
Great for snorkelling!
Penghu Islands || Ji-Bei Island (吉貝嶼)
How to Visit Ji Bei Island
Take a short boat ride from the North Sea Tourist Centre (北海遊客中心) which is located on Baisha Island (白沙).
What to do on Ji-Bei Island
-Watersports
Ji-bei island is one of the most famous places for water sports.
You can do everything here from enjoying banana boats to water slides and of course snorkelling and swimming!
You can stay overnight here in a wooden cabin.
-80 Stone Weirs
A very popular spot in Penghu.
-Wusheng Temple
Because why not?!
-Sand Beach Beak
At the southern end of the island, this is a 1.5k stretch of white sandy beach stretching out to the ocean.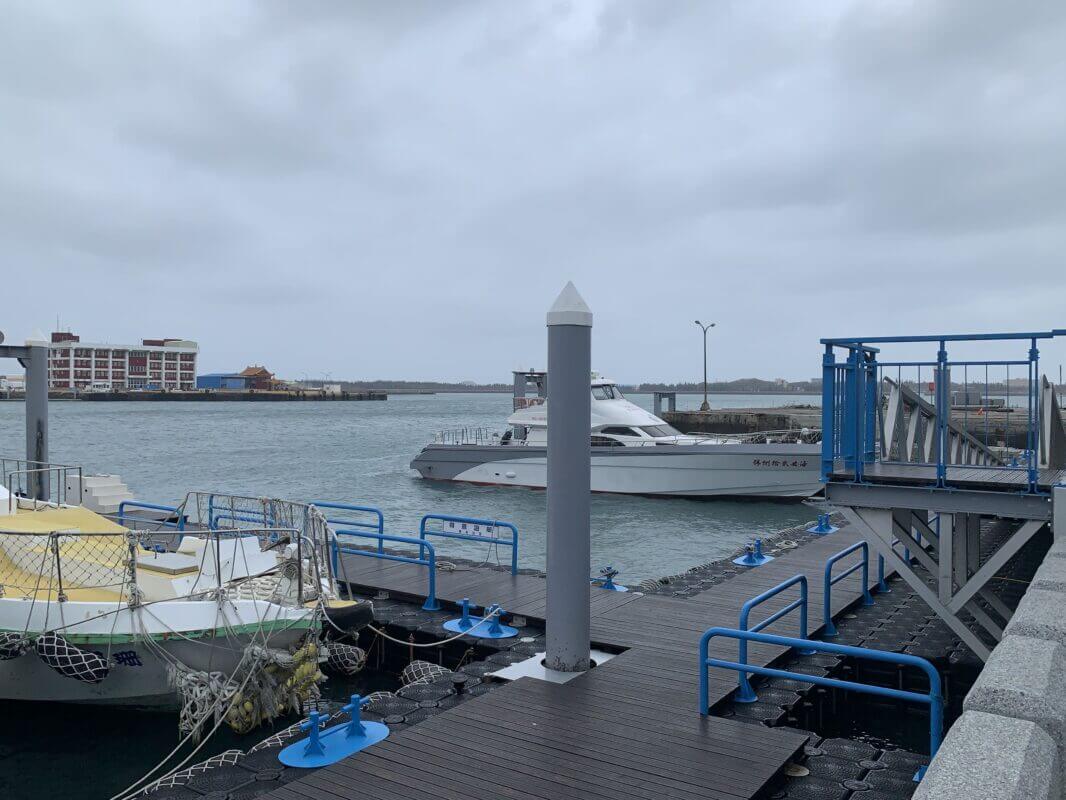 Penghu Islands || Wang'an Island (望安嶼)
How to Visit Wang'an Island
Buy your tickets and take a boat from nearby the South Sea Tourist Centre.
Take the Magong-Wang'an ferry for 50 minutes and you'll arrive at the island Wang'an.
Simple!
What to do on Wang'an Island
This island is nicknamed 'honeymoon island' for its stereotypical romantic aspects such as white sandy beaches and clear bright blue waters.
It is Penghu's fourth largest island.
– Old Courtyard House
Believed to be potentially the oldest ruins in Taiwan, this village boats several traditional freshwater wells, temples and old houses.
It's an old fishing village with great architecture as the houses are almost entirely built from coral and stone in the Qing Dynasty.
This cluster of residences is now a tourist attraction and largely uninhabited.
-Green Turtle Tourism and Conservation Center.
This is located on one of Wang'an's protected beaches where the sea turtles come to lay their eggs.
-Yuanyang Caves
Various caves previously used by the Japanese in WWII.
-Tiantai Hill
Offering great views over Wang'an island!
The 15-minute walk to the top is worth it, with great views over the island and various other outer islands.

Penghu Islands || Tongpan Island 桶盤嶼
How to Visit Tongpan Island
20 minutes from Magong/Penghu main island.
Boats run two or three times per day. Every day is different and times vary depending on the day of the week and season.
You pay on-board the boat. Not at the harbour. No booking in advance.
What to do on Tongpan
Nicknamed the 'Yellowstone Park of Penghu', this island is made up of lots of the basalt column structures you'll see all around Penghu – but these are some of the most impressive, encircling much of the island.
Here you can visit Fuhai temple, or go for a spot of snorkelling!
The island is small so it's more about experiencing the beauty of the island than visiting specific tourist spots.
-Basalt Columns
Admire the impressive basalt columns when approaching.
-Large coral forests
Always a lovely visit
-"Cat Rock"
A basalt formation in the shape of a beehive.
-Stepped basin
Formed on a sea-eroded platform called "Lotus terrace".
Penghu Islands || Hujing Island 虎井嶼
How to Visit Hujing Island
Take a 25-minute ferry from the main harbour. You pass by Tongpan on the way.
They run generally twice a day and return twice a day. Make sure to plan the night before to make sure of the times as they change with weekdays and seasons.
You pay on-board the boat. Not at the harbour. No booking in advance.
What to do on Hujing Island
Hujing is an island or islet.
Indeed, its name in Chinese is not 島 meaning island but rather 虎井嶼, lit. Tiger Well island.
Therefore, you can hear it be referred to as Huijingyu, Hujing Islet, or Hujing Island.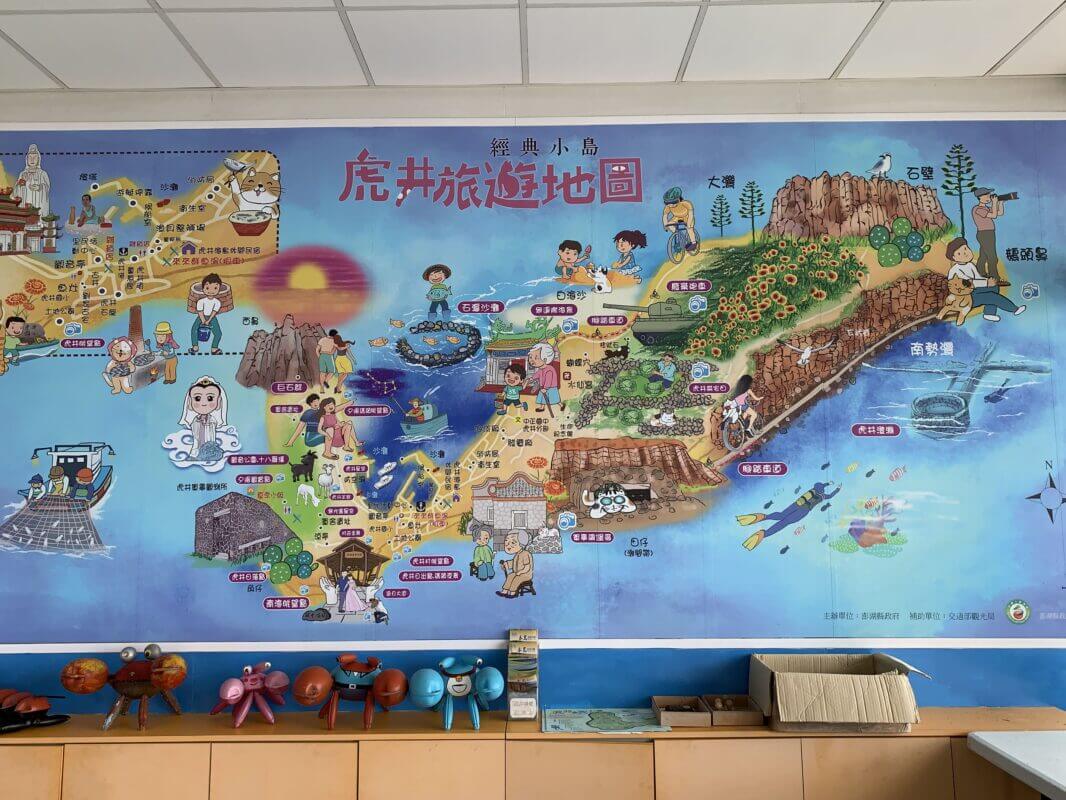 Here, you can spend your time exploring the landscape that is largely pretty barren.
There are lots of goats, few people, and few houses. There is also a military base, of course, so don't accidentally walk in like I almost did. Again.
There is little documenting what there is to see and do on Hujing but when you visit there are many signposts – for the few things you can do.
TOP TIP || Rent a scooter here for 150 NTD for a couple of hours. It's the only way you can get around – and there is only one place renting them. And only 5 scooters. So be quick..!
There are no electric scooters so technically if you don't have a license I don't think it's completely legal for you to drive. But no one asks. And you have no other choice.
There is no real way to visit much by walking (it would take way too long and there are no paths).
So…
TOP TIP || Follow the signs and spend some time scooting along the one or two roads they have there. You can't get lost. Google maps won't be much help so just ride around and stop when you see something interesting.
The main things are…
[ Turn right at the port ]
-Old Japanese war observatory
Pretty cool to walk around this underground cave bunker!
-Statue park area and viewpoint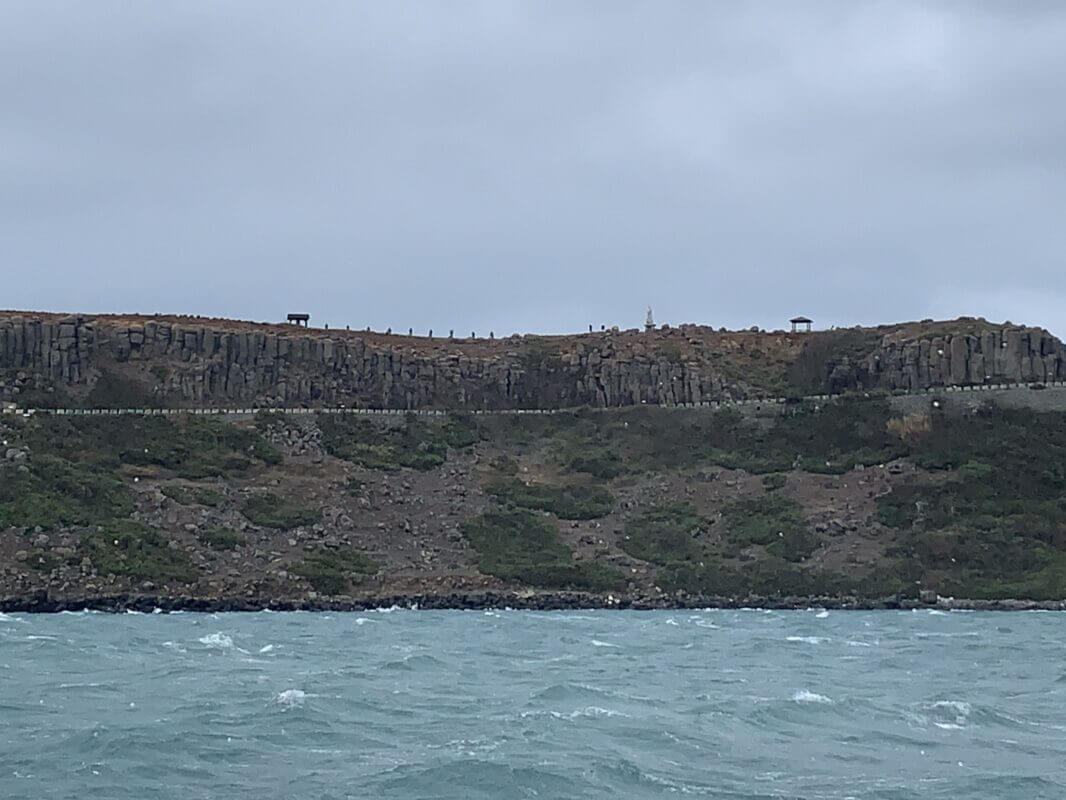 -Hujing statues
[Turn left at the port]
-Drive along the coast
-Don't accidentally go into the military base that may or may not be there.
Hujingyu is an island surrounded with much traditional culture and history. It's pretty large, the seventh largest, in fact.
It's flat in the centre but high up on both the west and east edges, where basalt columns define the high edges.
Hujing has an interest island history. The legend goes that there is an underwater "Sunken City" of Hujing.
DID YOU KNOW || There is a lot of historical literature on the existence of this 'underwater city', where there should be city walls. It's said that the Dutch built this fortress which then sunk over 300 years ago during battle.
During low tide, you can see some aspects of these 'walls' through the clear water.
However, some say that it may be due to the underwater columns joining together with Tongpan island close by…
You can decide which you want to believe!
---
That's our introductory guide to the Penghu Islands – have you been before? If so, tell us where in the comments.
If you are planning to go, feel free to ask any questions below also.
Penghu Islands || FAQs
Are there boats everyday from Magong?

Yes, depending on the weather.
Where can you visit from Magong?

Penghu has 90 islands, and whilst you can't visit them all, you can visit a lot from Magong!

Head to the harbour to see where you should go. 
Do you have to book in advance?

It's wise to inquire in advance but for some local boats, you buy the ticket on board. 
How much does it cost to travel in Penghu?

Depends on the island. Prices start from 100NTD for the closer islands. 
How long does it take to travel between the islands in Penghu?

Depends on the islands. Some are 20 minutes, some are 2 hours away. 
Can you fly to Penghu?
Which islands should I visit in Penghu?

We've listed the main ones in this article, so if you have time, visit them all!

They are:

— Qimei 七美

— Jibei 吉貝嶼

— Wang'an 望安嶼

— Hujing 虎井嶼

— Tongpan 通盤嶼

There are so many others we didn't even cover here.

Maybe you could explore some more! 
Want more from LTL?
If you wish to hear more from LTL Mandarin School why not join our mailing list.
We give plenty of handy information on learning Chinese, useful apps to learn the language and everything going on at our LTL schools!
Sign up below and become part of our ever growing community!
BONUS | Want to study the local Taiwanese dialect known as Hokkien? We provide Hokkien classes in person and online.