ACCOMMODATION
Whilst you'll learn most of your Mandarin in the classroom with us, it's not all about what you do at school – it's what you do out of it that really matters.
This is where the idea of the LTL Homestay came from. Needless to say it is one of our greatest ideas – 80% of LTL students stay at a homestay.
A homestay in Taiwan provides you with the most authentic and immersive experience. This is real, immersive learning at its very best.
WHY CHOOSE LTL
HOMESTAY
Our homestay in Taiwan is a superb accompaniment to your Mandarin language course. Over 80% of LTL students opt to stay with a homestay family.
A homestay in Taiwan provides you with the most authentic and immersive experience. You can bond with your homestay family, enjoy local Taiwanese food, and partake in weekend activities together.
Immersive Learning
Cultural Exchange
Two Meals a Day
STARTS FROM
USD 596 / WEEK
APARTMENTS
If you are looking for an alternative, we also offer two types of apartment throughout each of our cities in Taiwan. We offer a standard en-suite apartment (where the kitchen is shared) and studio apartment (which is completely private)
Located Conveniently
Bills Included
No Hidden Costs
STARTS FROM
USD 463 / WEEK
FREQUENTLY ASKED QUESTIONS
Is it a problem if I arrive back to my homestay late?

As long as you show respect and don't make loud noises then this is fine.

Regular communication (using LINE) is encouraged so your homestay family know you are safe and well.
How do you decide on the homestay family?

We do our very best to get to know you before placing you.

We want to get an idea of what makes you tick. Your likes, your hobbies, your passions etc.

As we have a wide range of families all with different traits and hobbies, this allows us to make the perfect match.
How do I get to my homestay family from the airport?

If you wish, we will pick you up.

You can also make your own way if you fancy a challenge to get yourself started but typically after a long flight students prefer to be taken directly by our drivers.
Do I get a house key?
Will I receive information about my host family before?

Yes we will send you an information pack to your email.
Can I stay in a homestay and not book a Mandarin course?

No. Our homestays are reserved for our students only.
Can someone come and stay over at my homestay?
Can I lock my bedroom door?

Yes of course this is no problem.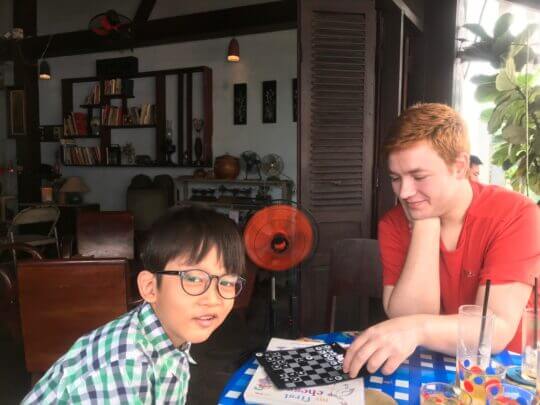 GET IN TOUCH
An LTL student advisor will reach you within 24 hours and get your course booked up in no time.